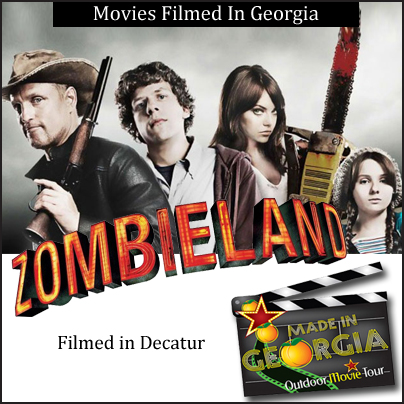 The 2009 zombie-flick, 'Zombieland' stars Jesse Eisenberg, Woody Harrelson, Emma Stone and Abigail Breslin. The movie is about an introverted college student who is trying to get to his family in Ohio. Sounds simple enough, however, the country has been infested with troublesome, man-eating zombies. He joins forces with a gun-toting, twinkie-obsessed man and two sisters who, together, fight their way across America. 'Zombieland' was primarily filmed in several locations throughout Georgia.
In Atlanta, the cast and crew of 'Zombieland' set up shop at a few different locations. Towards the beginning of the film, there is a scene that shows the importance of Rule #2: Double Tap, that was filmed at One Park Place.(Throughout the movie, various rules are demonstrated that should be followed in the event of a zombie-apocalypse). Standing in as Bill Murray's fictional Hollywood mansion in the film, is the very real mansion located at 490 W Paces Ferry Road in the Buckhead area of Atlanta. The home was built in 1912 and has 9 bedrooms and a staggering 15 bathrooms. Both the interior and exterior mansion scenes in the movie are of this Buckhead home. Also shot in Atlanta, was the elaborate highway rest-stop scene. In the movie, two of the characters find themselves on a highway littered with abandoned and wrecked cars. To film this scene, a set was put together at the Atlanta Motor Speedway at 1500 Tara Place right outside the city, in Hampton. Many of the cars that are seen in the movie are from extras or other citizens of the area who volunteered their vehicles for this scene.
The small town of Newnan also got to participate in the zombie film. For the movie, Newnan actually represents a small Texas town. Newnan Court Square, on Greenville Street around East Broad Street, is where one of the scenes was shot. The square was transformed to look like a deserted, zombie-ravaged town. Cars were flipped and set up to look like they had been crashed. Trash was spewed about and an unmanned tank occupied the middle of a street. (The tank was real and not digitally added). During filming, traffic did have to be detoured.
'Zombieland' filmed in a few other Georgia locations as well. An empty building in Powder Springs was constructed to look like an abandoned grocery store where the film's characters run into zombie's. A warehouse in Rutledge was made into "Kemosabe", an Indian trading post, where the characters have a therapeutic smashing session, breaking the merchandise. Also, the movie's climactic scene towards the end that takes place at the fictional Pacific Paradise theme park, was actually filmed at Wild Adventures Theme Park in Valdosta.
The horror-comedy, 'Zombieland' is currently available on Blu-ray and DVD.
_____________
All Rights Reserved
Southern Outdoor Cinema
Southern Outdoor Cinema of Atlanta, creates extraordinary outdoor movie events that captures all the senses of their client's audience while recreating the nostalgic feeling of a close knit community gathering. For a free event consultation contact Southern Outdoor Cinema at www.SouthernOutdoorCinema.com
Comments
comments