Posted by
Paul Murray
on
Friday Mar 23, 2012
Under
Tips
March is Copyright Awareness Month. Anytime a movie is shown outside the privacy of a home, a "public performance license" is required by law. This includes showing movies outdoors on an inflatable movie screen at schools, parks and churches.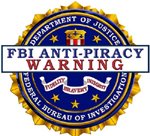 Hollywood movies and films are copyrighted pieces of artwork. Permission to show these types of media in a public setting is required from the copyright holder. To obtain permission to show movies outside of your home, you must obtain a "Public performance license". A public performance license is required even if your outdoor movie showing is free. A movie license is required regardless even if your movie event is organized by a non-profit or government agency. In other words, you cannot just bring a DVD from home and play it in a public setting.
Consequences for showing movies illegally are high. Individuals and organizations found not obtaining a public performance license for showing of a movie in a public setting may be fined up to $250,000 with possible jail time. The FBI warning at the beginning of a dvd explains this in detail.
Some public viewing of movies are exempt from not needing to obtain a public performance license. Under the "Educational Exemption" rule, a public performance license is not required by law. To qualify for this exemption, all of the following criterion must be met:
A teacher must be present during the movie showing
The showing of the film must be in a classroom setting
The movie viewing is part of the school curriculum
Southern Outdoor Cinema is qualified to secure the licensing for your event. SOC works with its clients to help them become copyright compliant for their outdoor movie showings.
__________
Southern Outdoor Cinema, LLC, is the LARGEST producer of outdoor movie events in the United States for professional sports teams, movie studios, film festivals, marketing agencies, Fortune 500 Companies and cities. Using cutting edge outdoor cinema equipment paired with a proprietary movie event planning system, Southern Outdoor Cinema helps clients create highly successful and highly entertaining outdoor movie events. To learn more about Southern Outdoor Cinema, visit http://www.SouthernOutdoorCinema.com

Comments
comments