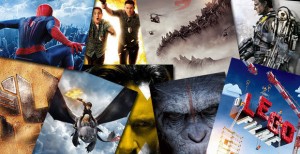 The 2013 movie season is past but definitely not over. Nonetheless, 2014 is upon us and we are all excited to see just what the New Year has in store where movies are concerned. Great or simply predictable, the fact remains. The movies of 2014 are on their way and here is our list of a few that you just might want to consider watching.
Noah
This religious epic is directed by Darren Aronofsky and written by Aronofsky and Ari Handel. It will star Russel Crow as Noah. It is not predicted to be religious in nature but will closely depict the life of Noah and his family as they face the trials that come with the changes that the announcement of the flood brings. It is scheduled to be released in March of 2014.
Captain America: The Winter Soldier
Captain America (Steve Rogers) finds himself recuperating and relaxing in Washington D.C.. While attempting to get accustomed to living in a new world, he is made aware of a S.H.I.E.L.D. agent and friend in trouble finding himself in trouble in the process. Steve ends up finding himself in the middle of a conspiracy and with the help of the Black Widow and a new ally named Falcon attempts to save the world once again.
The Hobbit: There and Back Again
The third installment in the Hobbit trilogy is expected to be released in Dec. 17, 2014 as opposed to its original anticipated release date of July 18. It is however keeping Hobbit fans on their toes as this sequel is expected to bring conclusion to a trilogy in much need of a "going out with a bang" conclusion. The actual filming was done in New Zealand and will still feature Martin Freeman as Bilbo, Ian Mckellan as Gandalf the Grey, Richard Armitage as Thorin Oakenshield, and Benedict Cumberbatch as Smaug.
The Amazing Spider-Man 2
For the Amazing Spider-Man (Peter Parker) life is tough as usual. Shuffling between being a web slinging super hero and a normal everyday guy in love with a girl he promised to avoid will never be easy. It only gets tougher when a new villain in town, Electro, enters the picture and Peter must join forces with an old friend, Harry Osborn, in order to save the world once again.
X-Men: Days of Future Past
Past meets future in this epic X-Men adventure. The best of the younger X-Men from "X-Men: First Class" must join forces with the best of their future selves from the original "X-Men" movies in order to defeat a foe out to destroy life as they know it. The outcome will surprise everyone as it involves changing the past so that the future can be saved.
Transformers: Age of Extinction
The rebuilding has begun and peace is now evident as all traces of the Autobots and the Decepticons have vanished. The only problem is that a group of wealthy and powerful businessmen have teamed up with a group of genius scientists to learn from the past and take control of the future. What no one realizes is that a powerful yet ancient transformer has other plans for earth; plans that definitely do not involve peace.
Need for Speed
Blue-collar mechanic Tobey Marshall (Aaron Paul) owns a mechanic shop whose only saving grace is their ability to build and race street cars. Everything seems to be going well until Tobey partners up with an ex-NASCAR driver who is not only wealthy but extremely arrogant. Toby is framed for a crime that he didn't commit and spends 2 years in prison for it. His release from prison comes with a mission of revenge that creates the action packed climax of all time.
Dawn of the Planet of the Apes
10 years following the fall of humankind, Caesar continues to lead the growing band of genetically altered apes. Everything seems to be going well until a group of humans who happened to survive the virus decides to challenge Caesar and threaten the now ruling apes. War is sure to break out but who will survive as the ruling species? This question can only be answered over time.
Godzilla
The second Godzilla film in the sequel might just surprise you as it is full of amazing action packed scenes. Starring David Goyer, a very young US Marine, Godzilla won't be the only menace in this film. Two additional monsters will appear in the film which means triple the action and triple the destruction. It will be one of those films to keep you at the edge of your seat for sure.
The Hunger Games: Mockingjay Part 1
The rebellion against the Capitol escalates in this sequel to the Hunger Games series. With Katniss leading the rebellion, things go from bad to worse as the districts of Panem join in the fight against the tryanny of the Capitol. As things escalate to near utter destruction to surrounding districts, katniss begins to question her abilities and is forced to determine exactly who it is that she can and cannot trust. The ultimate question becomes is the fight really worth it all, as everything and everyone she cares for stands in the balance.
____________________
All Rights Reserved
Southern Outdoor Cinema
About Paul B. Murray
Paul is founder of Southern Outdoor Cinema, an outdoor cinema event production company based in Atlanta and a dad to 2 pre-teen girls. When he is is not traveling to create outdoor movie nights for communities, he is spending time playing board games, reading books and of course watching movies with his girls.
Comments
comments