Posted by
Paul Murray
on
Friday Jul 20, 2012
Under
Tips
Today, I want to talk to you about hosting a dive-in movie. Showing a movie by poolside is a refreshing change to the hot summer. Outdoor movies are becoming popular with swim themes and places like the YMCA as an alternative to some of their other events. (Click here to tweet this.)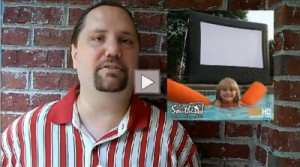 Also consider theming your event this summer. August is typically shark week, and you can start theming your movie series to something like Jaws or something shark related. You can also consider the fact that, during the movie, you'll have kids floating out onto the pool while the parents are enjoying drinks and socializing on the pool deck During the movie, here are some tips to consider when hosting an outdoor movie by poolside.
Make sure you turn on any underwater lights on the pool. You wanna have a safe environment, you wanna be able to see everyone in the pool and make sure that everyone is safe during the movie.




Consider having lifeguards on hand. For events at your park or YMCA pool, at work you will have a large crowd. Definitely have a lot of kids in the water and you'll want to make sure that you are able to keep an eye on every one of them.




Swap out popcorn and replace with icies or snow cone machines. Often times when people eat popcorn near the pool, they'll drop it in the pool or they'll try swimming with it in the pool, and wet popcorn corn creates a lot of a mess, especially for the pool filters.




Make sure you have some lighting around the pool deck area so that people aren't tripping into things during the movie. One thing you want to make sure is that your don't have any direct light over the screen itself, but lighting everywhere else in the audience area is fine. I hope you are finding my outdoor movie tips to be filled with high value and high content.
All Rights Reserved
Copyright 2002-2012
Southern Outdoor Cinema
###
Want to use this article on your website or your own blog? No problem! But here's what you MUST include:
Southern Outdoor Cinema is the largest producer of PREMIUM outdoor movie events in the country. They are leading the industry with NEW & UNIQUE outdoor movie events. To begin planning your outdoor movie event contact Southern Outdoor Cinema at www.SouthernOutdoorCinema.com or visit their online photo gallery at www.facebook.com/SouthernOutdoorCinema for event ideas.

Comments
comments