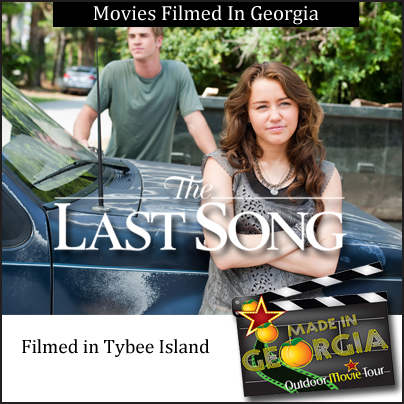 Released in March of 2010, 'The Last Song' stars Miley Cyrus and a then relatively unknown, Liam Hemsworth. (He is the younger brother of 'Thor"s Chris Hemsworth). The movie is about a rebellious, troubled teen (played by Cyrus) who is sent to a southern beach town to spend the summer with her father. Throughout the summer, her and her estranged father are able to reconnect and she falls in love with Hemsworth's character, Will. 'The Last Song' was filmed entirely in the state of Georgia.
Tybee Island, Georgia became the setting for 'The Last Song'. The movie is the first to be both shot and set on Tybee Island. Many local places on the island can be prominently seen during the film. The Tybee Pier only had minor changes to it for its scenes, which included erecting lampposts, inserting stairs to the beach and a few decorations. The pier had to be closed to the public for about five days during filming. Along with the pier, the pavilion on the beach was also featured during a bonfire scene. An entire church was built on the island specifically for scenes in the movie. For the film, the church was built at 13th street and 6th Avenue, but since wrapping the movie, a local buyer purchased the church, moved it to Butler Ave, and has opened a southern wedding chapel. A few Tybee Island homes were also used for the movie, doubling as some of the characters' houses.
In Savannah, about 30 minutes west of Tybee Island, sits the Wormsloe Historic Site, or, informally known as Wormsloe Plantation. The property is used in the film to portray Will's family home where they retreat to for his sister's lavish wedding. The mansion was built by one of Georgia's colonial founders, Noble Jones. Construction on the Wormsloe Plantaion was between 1739 and 1745. The property is likely named after the area where Jones' family lived, Wormslow Hundred, Herefordshire in the Welsh border country. The site of this piece of historical architecture has a very rich history. Permission to utilize the property for the filmmakers of 'The Last Song' was not an easy thing to obtain, but in the end, they were able to do so. The wedding scene does a nice job at showing off some of the beautiful features of the Wormsloe Plantation.
Other filming locations for 'The Last Song' include a college campus scene shot at the EDRB building at Georgia Tech and a few scenes that were filmed at the Georgia Aquarium in Atlanta, where the character, Will, works in the movie.
'The Last Song' is currently available on Blu-ray and DVD.
_____________
All Rights Reserved
Southern Outdoor Cinema
Southern Outdoor Cinema of Atlanta, creates extraordinary outdoor movie events that captures all the senses of their client's audience while recreating the nostalgic feeling of a close knit community gathering. For a free event consultation contact Southern Outdoor Cinema at www.SouthernOutdoorCinema.com
Comments
comments