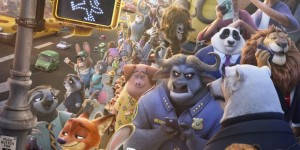 Zootopia – Parent Movie Review
 The newest romp adventure from Disney Animation Studios is so trending in topic and original in presentation it strikes the adult viewer as the most un-Disney like film they ever created for us. The film is for both children and adults, family entertainment, and the inspiration can't be missed, although the film avoids following footsteps in its forging new territory for Disney.
The animation is visually dazzling to both young and mature audiences. The screenwriters delivered intelligent and attention holding script, which holds center stage in Zootopia, and put WDAS at the top of their award winning game. There is a definite new milestone this year in Disney as their films are modernized and yet still rediscover their talented and original style.
The story line is that mammals have all evolved to live in harmony in a large city of the future. Bunny Judy Hopps wants to be the first rabbit policewoman, and partners a fox con artist to expose a conspiracy in the department. This pairing provides great humor, as they hold personal grudges and prejudices against each other, and portrayal of inter-species bias connects powerfully to today's sexism and racism employment issues. The point making banter is sometimes surprising and always spot on, in a fun packed story completely original. This is exceptionally welcome from Disney, who has for years been adapting work. This film is funny and witty, producing both at the same time. Since Pixar ranks at top peak of modern animation, WDAS had to borrow some elements and as a result the work feels like Pixar with a seasoning of Disney dashed here and there.
In the story line, the partnership of Bunny Hops and Fox succeed in their solving of the conspiracy crime, but when accepting their award, Bunny reverts to her roots and advises the audience that the city's predator populations have reverted to their savage beginnings, and future police work needs to recognize that. This betrayal hurt Fox and he abandoned Bunny until their forgiving and understanding reunion at the climax of the film.
Undoubtedly, the bunny element depicts women trying to break the career glass ceiling aspects and the predators are today's minorities, as this plot line incorporates bullying dangers and sexual exploitations. These might not please all parents of young children, and some humor might fly over the younger viewer heads. However, if this is what modernization requires, Zootopia satisfies that requirement without become crude and offensive to the family genre.
Which brings this review to the only parental guidance warnings within the film, and it must be noted that these are slight, fleeting and small incidents, but still might inflict fear into a small child without appropriate parental guidance:
• Profanity: There are no profanities; however, twice irreverent use of "God" is made.
• Drugs and Alcohol: The plot requires characters to work within a plant based lab and discovery is made by the law.
• Violence, Gore: Using ketchup as blood, there are scenes of facial scratching, leg cuts, and a pained scream in confrontation scenes, and one character's eye is blinded by another's attack.
• Nudity, Sexual Inference: Scene from floor of two female characters on toilet, only feet shown, and there are nightclub scenes of nude animals not wearing the customary clothing of the film costumes. Nothing private is revealed due to the animal's fur, but the nude significance is there. "Gazelle", celebrity dancer, appears throughout the plot performing her nightclub entertainment skits.
• Frightening Scenes: A friendly character accidentally reveals her own inner bias in a public announcement that causes hurt and embarrassment by her betrayal so that she resigns from the police in shame. Scenes of children being bullied could be upsetting. In one plot turn, a drink turns the sympathetic friendly predators back into dangerous killing animals.
The emotional positives of forgiveness, reconciliation, sympathy and helpfulness are ingrained throughout the animation and screenplay. Whenever the dialogue might be over a child's comprehension, the animation displays the emotion felt. The character voices are celebrity actors who will be familiar to adult audiences and enhance their humorous dialogues by their personal identification. The ethereal visual of the overview of Zootomic sends a better-than-life enhanced beauty that signifies the pleasant existence of all those living there amid equality, complete lack of bias or hurtful prejudice.
Zootopia is indeed a very good movie that explains the negatives of hurtful bias and discrimination in any living mammal. It is clearly carefully crafted for every nuance and attention holding message. The themes do not feel heavy; instead, Zootopia presents the young and old audience with a fun adventure wrapped delightfully in a funny, entertaining Disney film.
Zootopia has been presented in many languages of the world, although some countries inexplicably retitled the film, "Zootropolis" with the production company's permission. The content of this film should be acceptable for children aged 6 and up; younger children might not understand the jokes nor the more adventurous and volatile scenes and might feel fear in what should be an entertaining Disney movie outing with their supportive adults.
https://www.youtube.com/watch?v=bY73vFGhSVk
_____________
All Rights Reserved
Southern Outdoor Cinema
Southern Outdoor Cinema of Atlanta, creates extraordinary outdoor movie events that captures
all the senses of their client's audience while recreating the nostalgic feeling of a close-knit
community gathering.  For a free event consultation contact Southern Outdoor Cinema atwww.SouthernOutdoorCinema.com
Tags : parent movie review, southern outdoor cinema, Zootopia | Comments Off

on Parent Movie Review – Zootopia