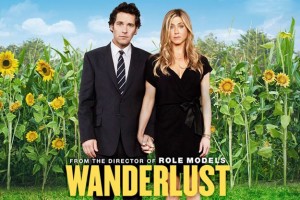 Jennifer Aniston and Paul Rudd star in the 2012 comedy, 'Wanderlust'. The film is about a New York couple, played by Aniston and Rudd, who are looking to escape the city after their life has taken a sudden change. After they both become unemployed and no longer able to afford their New York City apartment, the couple heads to Georgia where they come across a hippie commune called, Elysium. At first, the couple hesitates to indulge in the commune, but after spending time with the relative they were supposed to stay with, they decide to give it a chance. The screenplay was written by Ken Marino and David Wain. Marino was also a screenwriter on the films, 'Role Models' (which also starred Rudd) and 'We're the Millers' (which also starred Aniston). The film was directed by Wain, who also directed Rudd in 'Role Models'. Much of the film is set in Georgia, and besides some scenes completed in New York, most of the movie was filmed in Georgia, as well.
In Clarkesville, Georgia, the cast and crew of 'Wanderlust' spent some time filming scenes for the movie back in 2010. The hippie commune, Elysium, that Aniston's and Rudd's characters come across in the movie, was portrayed by an area in Clarkesville. The set was closed to the public, but reports have the location at 340 Woodlane Lane. The film set and the base camp were located near the North Habersham Middle School. Signs were posted around the area that said "Elysium" and included arrows pointing towards the set. In an interview, Jennifer Aniston had stated that she enjoyed filming in the area and felt like being in the rural town gave her a sense of anonymity back.
Other filming locations for 'Wanderlust' include Marlowe Farms at 3750 George Williams Road in Monroe. There was also a scene filmed at the lobby of the building at 191 Peachtree Tower in Atlanta. In Lawrenceville, there was filming done at 2160 Breckenridge Blvd and at Gwinnett Diner at 257 Scenic Hwy. Also, in Lawrenceville, scenes were filmed at a subdivision called Miramonte Way that is off of Ozora Road.
'Wanderlust' did not meet favorable reviews by most critics. It received a 59 percent rating on the Rotten Tomatoes site. The film also did not perform very well at the box office. It was considered a flop, with a domestic gross of under 18 million dollars. The film's budget was 35 million dollars.
'Wanderlust' also stars Alan Alda, Justin Theroux, Malin Akerman and Joe Lo Truglio. It is currently available on both Blu-ray and DVD.

_____________
All Rights Reserved
Southern Outdoor Cinema
Southern Outdoor Cinema of Atlanta, creates extraordinary outdoor movie events that captures all the senses of their client's audience while recreating the nostalgic feeling of a close knit community gathering. For a free event consultation contact Southern Outdoor Cinema at www.SouthernOutdoorCinema.com
Tags : Wanderlust | Comments Off

on 'Wanderlust' Starring Jennifer Aniston and Paul Rudd, Filmed in Georgia