Once you choose a movie for your outdoor movie event, you might think the most important decision is out of the way. Not so fast, though, because choosing the right venue is just as important as picking the movie. In order to have a successful event, the venue must be chosen with great consideration. Here are some tips to keep in mind as you consider locations for your outdoor movie event.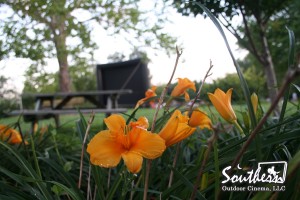 First, think about the land at potential venues. Is there a flat, grassy area where people can sit comfortably on blankets? Is there an opportunity for an amphitheatre style event, with a hill facing down to the screen area? Both of these types of locations will work well for a movie event.
Next, be sure the area is free of uncomfortable and potentially hazardous objects like rocks and ant hills. If you are considering an area near a lake or a pond, make sure the seating area is free of goose or duck droppings. Make note of the condition of the grass at potential venues; is the grass soft, or is it straw-like or itchy? Soft grass will be much more comfortable and inviting for guests.
After considering the landscape, turn your attention to the view at the venues you are considering. Part of what makes the outdoor movie experience special is the opportunity to see a movie in a beautiful location under the stars; make sure the view at your movie night will not disappoint. A beautiful mountain backdrop or a pretty park will add to the experience, while a view of an eye sore like garbage dumpsters can take away from the experience.
How safe is the area around the potential venue? Safety is particularly important since outdoor movies are held at night. Visit the location at night to get a feel for the level of safety, and also contact the local police station to learn about crime statistics in the area. Guests will enjoy themselves more when they feel safe.
Don't forget to take noise into consideration. Choose a venue with a quiet, peaceful setting. Avoid locations near train tracks or busy roads, since the noise and light will be distracting and bothersome.
Keep these tips in mind as you consider potential venues for your outdoor movie event. The location can make or break your movie night, so be sure to take your time and give this decision careful consideration.
All Rights Reserved
Copyright 200-2012
Southern Outdoor Cinema
###
Want to use this article on your website or your own blog? No problem! But here's what you MUST include:
Southern Outdoor Cinema is the largest producer of PREMIUM outdoor movie events in the country. They are leading the industry with NEW & UNIQUE outdoor movie events. To begin planning your outdoor movie event contact Southern Outdoor Cinema at www.SouthernOutdoorCinema.com or visit their online photo gallery at www.facebook.com/SouthernOutdoorCinema for event ideas.

Tags : event coordinator, event organizer, inflatable movie screen, outdoor movie, venue | Comments Off

on Picking The Right Venue For An Outdoor Movie Event