Posted by
Paul Murray
on
Monday Oct 1, 2012
Under
Tips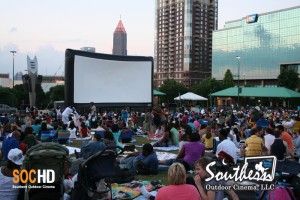 If you are planning to host an outdoor movie event you will need a large screen to project the movie onto. Two options you might be considering are a truss screen, with a steel frame, and an inflatable movie screen. Inflatable movie screen technology offers a variety of advantages over a truss screen. Let's discuss some of the key differences between inflatable movie screens and truss screens.
Inflatable movie screens offer portability that cannot be matched. Inflatable screens are small and can be easily transported and set up almost anywhere. The compact transportation size and manageability of the screen means that inflatable screens can be set up in unique places, such as floating barges, that are not easily accessible for truss style screens.
One of the most important advantages of inflatable screens is quick set-up and tear-down time. Small screens can typically be set-up in under an hour, and large, several story tall screens take just a few hours. A truss screen must be unpacked and assembled; this process takes several hours to as much as a full day. A large Screen on the Green event in Georgia is an excellent example of the importance of a quick set-up and tear-down time. The event used a truss system that required three days of park rental to allow for enough set-up and tear-down time. Three days of park rental cost over $10,000 per day. When the event coordinators made the switch to an inflatable movie screen, a significant amount of production cost was saved. (Click here to retweet this.)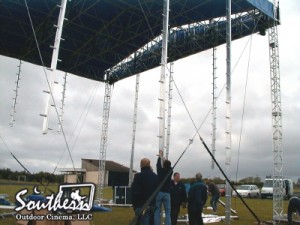 A lower equipment failure rate with inflatable technology is another important advantage to consider as you plan your movie event. A truss system needs to be assembled at each event which allows for human error. The guests at your event will be counting on properly functioning equipment to enjoy the evening; a problem with the equipment could be devastating to the success of this event, and potentially to your reputation if you plan to host future movie events.
Inclement weather is another factor to consider as you compare inflatable and truss systems. In high winds, for example, inflatable screens can be deflated within a few seconds, insuring the safety of the crowd and the equipment. Scaffolds cannot be taken down so easily. Remember the staging collapse incident that occurred before a concert last year for an illustration of the hazard this can create.
Even as you consider the many advantages of inflatable movie screen technology, blower noise might be a concern for you; However, blower noise from inflatable movie screens are no longer a distraction. Technology has improved, and depending on the screen size needed, blower-less inflatable movie screens are now on the market and can stay inflated for days. High-end equipment providers have damper boxes to place the blowers in to reduce blower noise.
The equipment you choose for your outdoor movie showing can make or break your event. The advantages of inflatable screens over truss screens are clear. Set yourself up for success by choosing an inflatable screen for your outdoor movie event.
All Rights Reserved
Copyright 2006-2012
Southern Outdoor Cinema
###
Want to use this article on your website or your own blog? Here's what you MUST include:
Southern Outdoor Cinema is the largest producer of high quality outdoor movie events in the country. We don't just rent inflatable movie screens. Instead SOC shares nearly a decade of expertise with our clients so that they have an EXTRAORDINARY outdoor movie event which is EASY and STRESS-FREE to organize. To begin planning your outdoor movie event contact Southern Outdoor Cinema at www.SouthernOutdoorCinema.com or visit our Facebook page at www.facebook.com/SouthernOutdoorCinema for daily outdoor movie tips.

Tags : equipment provider, inflatable movie screen, outdoor movies, truss system | Comments Off

on The Advantages of an Inflatable Screen Over a Truss Screen