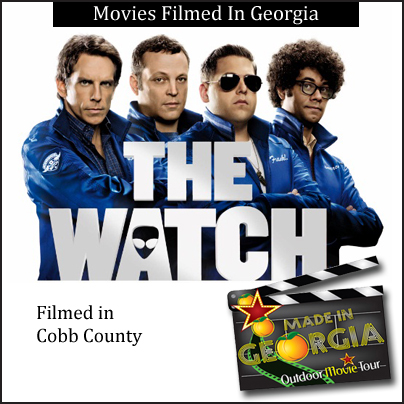 Ben Stiller, Vince Vaughn and Jonah Hill starred in the 2012 film, 'The Watch' that was filmed in Georgia. 'The Watch' follows a group of suburban dads who form a neighborhood watch in efforts to get time away from their families, and end up defending the Earth from an alien invasion. The film was originally written by Jared Stern as a teen-targeted film, but after several people joined and then left the project, the film took a new direction. Writers, Seth Rogen and Evan Goldberg rewrote the script with Stern to make it geared more towards adult audiences. Filming began in October 2011 and finished up in January 2012.
One of the filming locations that is seen throughout the movie was at Marietta Square in Marietta, Georgia. Various spots throughout the square were used in shots for the film. The Australian Bakery along the square had their sign changed to a fictional name for the movie. One of the scenes shot in the square involved a boy on his skateboard being chased and abducted by an alien. To provide the right atmosphere for this scene, all of the streetlights were shut off as well as the lights from the surrounding establishments. Some businesses were closed during this time, but many remained open. The First Presbyterian Church at 189 Church St in Marietta was used as a base camp for the production team.
'The Watch' took to several metro Atlanta locations to film portions involving neighborhood scenes. The Amberton and Oakleigh subdivision in Powder Springs was used for a few scenes in the film and utilized many of the residents as extras. The Echo Mill subdivision in West Cobb County also hired several residents as extras for the scenes shot there. The Campbell High School football stadium in Cobb County also has some screen time in the movie. Back in Powder Springs, the Trinity Chapel on Macland Rd served as a staging area for all of the equipment trucks.
Filming for 'The Watch' also took place at Inman Park on the East Side of Atlanta and at the EUE/Screen Gems Studios in Atlanta. Inman Park is Atlanta's first planned community and one of the nation's first garden suburbs, built in 1890. EUE/Screen Gems Studios opened in 2010. It is a 10-stage, 33 acre studio with 138,000 square ft of production and flex space as well as 40,000 square ft of office space. The studio is a few minutes from the Hartsfield-Jackson Atlanta International Airport and they offer hourly flights daily to New York and Los Angeles. They are also located minutes from downtown Atlanta's luxury hotels. Georgia's film tax credit of up to 30 percent was a big reason for building the studio and it has since helped to bring hundreds of films to the area.
'The Watch' was released in theaters in July 2012 and is currently available on Blu-ray and DVD.
All Rights Reserved
Southern Outdoor Cinema
About Southern Outdoor Cinema
Southern Outdoor Cinema doesn't rent outdoor movie screens. Instead Southern Outdoor Cinema produces extraordinary full turnkey outdoor movie events that engage, entertain and impresses audiences and sponsors. Because of SOC unique approach to outdoor movie event planning and use of superior cinema equipment, our events stimulate your audience's senses. For a free event consultation, contact Southern Outdoor Cinema at .
Tags : The Watch | Comments Off

on 'The Watch' Starring Ben Stiller, Filmed in Georgia