With Thanksgiving approaching; you might be thinking about starting some new family traditions. Watching a Thanksgiving movie is a great way to relax and enjoy family time together. This list of Thanksgiving themed movies will help you choose the best movie to indulge upon this Thanksgiving Day.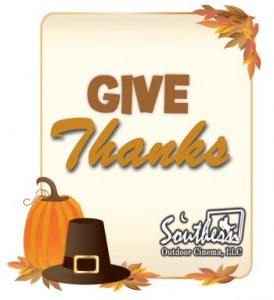 A Charlie Brown Thanksgiving
In a Charlie Brown Thanksgiving Charlie finds himself in a predicament as usual; he is supposed to eat Thanksgiving dinner at his Grandma's but his friend Patty invites herself over to his house for dinner. Charlie ends up attempting to make dinner with his limited cooking skills; but ultimately Charlie and his friends all end up heading to Charlie Brown's grandma's to eat. This is a fun film with relatable Thanksgiving themes; balancing different obligations and trying to make everyone happy, and struggling to put together a great meal.
Disney's Pocahontas
Pocahontas relates to Thanksgiving in a very traditional sense. English soldier John Smith is part of the group of colonists who invade Virginia in the 17th century. John Smith and Pocahontas ultimately fall in love and Smith learns about peace and being thankful from Pocahontas. Since Thanksgiving is said to have originated during this time period as a result of the Native Americans' kindness toward English colonists; this movie is a very appropriate choice for Thanksgiving.
Planes, Trains and Automobiles
If you are looking for a fun film with a positive Thanksgiving message; Planes, Trains and Automobiles is a must see. An unlikely pair, Neal and Del, end up traveling home together based on some traveling mishaps. The two drive each other crazy on an accident prone and very funny journey. In the end they make it home only for Neal to discover that Del is actually spending the holiday alone. Neal shows a generous Thanksgiving spirit and invites Del to his home to share Thanksgiving with his family.
Home for the Holidays
Home for the Holidays chronicles the journey of a single mom, Claudia, facing some stressful situations like a job loss and a rebellious child as she travels home to spend Thanksgiving with her family. The visit is filled with arguments with eccentric and sometimes annoying family members. In the end, in classic Thanksgiving fashion, she sees that they while they have their differences; they actually have her best interest at heart. Her brother had secretly brought along a friend for Claudia to meet and the two end up hitting it off.
Pieces of April
Families are not perfect; and many viewers will be able to relate to the thanksgiving journey April and her dysfunctional family go on. She invites her family, including her terminally ill mother, for Thanksgiving dinner. The family's journey to her apartment and her preparations for their arrival are filled with problems and some laughs. In the end April receives help form some generous neighbors to make her Thanksgiving dinner a success and comes away with a little bit more of an appreciation for her family.
All Rights Reserved
Southern Outdoor Cinema
"Bigger Screens. Brighter Images. Crisper Sound."
###
Want to use this article on your website or your own blog? No problem! But here's what you MUST include:
Southern Outdoor Cinema is the largest producer of PREMIUM outdoor movie events in the country. They are leading the industry with NEW & UNIQUE outdoor movie events. To begin planning your outdoor movie event contact Southern Outdoor Cinema at www.SouthernOutdoorCinema.com or visit their online Facebook photo gallery of outdoor movie events for ideas.
Tags : Thanksgiving, Thanksgiving Movies | Comments Off

on 5 Movies To Watch On Thanksgiving Day: Movies To Stuff Yourself With