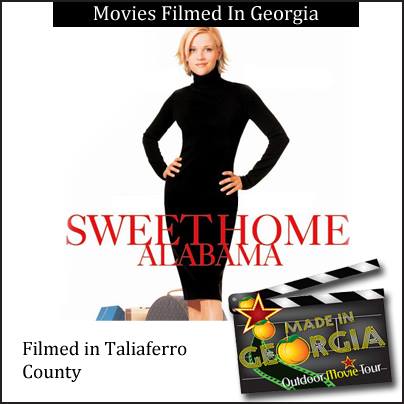 In 2002, the romantic comedy starring Reese Witherspoon, 'Sweet Home Alabama', was released in theaters. The movie is about a southern woman who runs from her husband and her life in Alabama and recreates herself as a New York City socialite. Several years later, she gets engaged and finds herself having to go back home to get her husband to sign divorce papers. Once she is back home, she finds that life in the south may be better than city life after all. 'Sweet Home Alabama' also stars Patrick Dempsey, Josh Lucas and Candice Bergen. Even though, as the title indicates, the setting of the film is Alabama, most of the filming was done at various locations in Georgia.
In Rome, Georgia, a mansion was used for scenes in the movie. In the film, Reese Witherspoon's character, Melanie, pretends that this mansion belongs to her family. The mansion that the movie used during filming is called Oak Hill and it resides at Berry College. Oak Hill is now a museum, but it once belonged to the founder of Berry College, Martha Berry.
The International Horse Park in Conyers, Georgia was used in the movie during a scene that involved the characters doing a Civil War re-enactment. The International Horse Park opened in 1995 and was used for all of the equestrian events during the 1996 Olympic games.
While filming 'Sweet Home Alabama' in Atlanta, scenes were shot at a loft located in downtown's Hastings Seed Lofts at 434 NW Marietta Street. Some scenes were also filmed in the Castleberry neighborhood on the SW edge of central Atlanta.
Lake Peachtree in Peachtree City was the location where one of the characters lands a plane in the film. It is actually illegal to land a plane there, so the film company was ticketed $300 for the violation.
In Crawfordville, a very small town with a population just over 500, the Taliaferro County Courthouse was used during one of the film's scenes. There is also a scene in the film where Main Street is featured as Witherspoon's character walks down it.
Other filming locations for 'Sweet Home Alabama' were at one of the plantation homes located in Covington, as well as at Starr's Mill in Fayette County. Starr's Mill is seen in the film as the character, Jake's (played by Josh Lucas) glassblowing shop. For the movie, the property's exterior was repainted and its porch was rebuilt.
'Sweet Home Alabama' is currently available on both DVD and Blu-ray.

_____________
All Rights Reserved
Southern Outdoor Cinema
Southern Outdoor Cinema of Atlanta, creates extraordinary outdoor movie events that captures all the senses of their client's audience while recreating the nostalgic feeling of a close knit community gathering. For a free event consultation contact Southern Outdoor Cinema at www.SouthernOutdoorCinema.com
Tags : 'Sweet Home Alabama' | Comments Off

on 'Sweet Home Alabama' Starring Reese Witherspoon, Filmed in Georgia