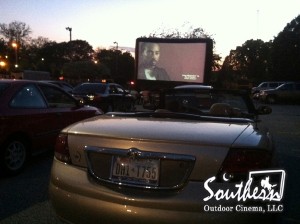 Southern Outdoor Cinema recently brought the magic of the drive-in movie on location to a college campus during spring fling week. Here is how Southern Outdoor Cinema used the latest in inflatable movie screen technology to create an unforgettable drive-in movie experience right in the parking lot of this college campus.
Our crew transformed an ordinary parking lot into a drive-in movie theatre for just one night. SOC used a huge, inflatable movie screen, a monster sound system, and an FM transmitter to create the ultimate drive-in movie experience for students, with clear picture and sound. Students who sat on chairs or walked past the area were able to see and hear the movie clearly on the huge screen, and hear it through our monster sound system. Others were able to enjoy an authentic drive-in movie experience by tuning their car radios in and listening through the FM transmitter.
Southern Outdoor Cinema uses AIRSCREEN brand screens, the world's leader in inflatable movie screen technology. These screens feature a highly reflective surface that offers a picture just like you would enjoy in an actual movie theatre. These technologically advanced screens, along with HD projectors, allowed us to present video on the screen long before dusk, while other providers must wait until 20-40 minutes after sundown to begin displaying images on their screens.
Our AIRSCREEN inflatable movie screen made it possible for the client to display several student made videos before the featured movie. The movie was then able to begin right at sundown. These screens and projectors make it possible for events to begin earlier, so students can enjoy the event and still return to their dorms before curfew.
By using the latest and greatest inflatable movie screen technology available, Southern Outdoor Cinema is able to transform an ordinary place like a parking lot on a college campus into an amazing, on location, drive-in movie theatre. The advanced screens, projectors, and sound system we use give our clients an edge when it comes to hosting unforgettable movie events.
Check out the video below to see how Southern Outdoor Cinema transformed a college parking lot into a drive-in event…
All Rights Reserved
Southern Outdoor Cinema
"Bigger Screens. Brighter Images. Crisper Sound."
###
Want to use this article on your website or your own blog? No problem! But here's what you MUST include:
Southern Outdoor Cinema is the largest producer of PREMIUM outdoor movie events in the country. They are leading the industry with NEW & UNIQUE outdoor movie events. To begin planning your outdoor movie event contact Southern Outdoor Cinema at www.SouthernOutdoorCinema.com or visit their online photo gallery at www.facebook.com/SouthernOutdoorCinema for event ideas.

Tags : Airscreen, college, drive-in, inflatable movie screen, outdoor movie, spring fling | Comments Off

on Southern Outdoor Cinema Uses the Latest Technology to Create an On Location Drive-In Movie