Posted by
Paul Murray
on
Thursday Jun 20, 2013
Under
Tips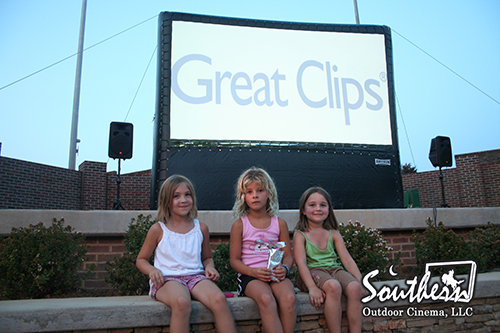 Details make or break an event, right? And movie event sponsors are the most important detail. They are the lifeblood of a great get-together or fundraiser such as an outdoor (or indoor!) movie event.
Don't let an opportunity slip away to make your movie event sponsors happy.
Don't allow a less than professional outdoor movie rental company put a bad taste in your sponsors' mouths.
These sponsors helped make your movie event possible, and they deserve to be in the spotlight. Plus, you want to retain them for future events!
Here's how to please your outdoor movie event advertisers just as if they bought (much pricier) ad packages from a traditional movie theater.
1) Make sure the ads look professional on screen: Sharp, eye-catching sponsor ads is one of the keys to pulling off a high-quality movie event.
Skewed, stretched or unreadable ads? Well, they make advertisers flinch and put away their check books next time.
Eek.
Just imagining a messed-up ad (and the looks on the faces of attending sponsors) makes you squirm a bit, right?
This isn't a marketing project to face alone. We have you covered. We have a professional graphic artist on our staff to prepare sponsor ads and ensure they are shown on-screen in a proper and professional way.
The sponsors will also be delighted at how well their ads look on our theatrical-grade, elegant outdoor screen. Going pro means going big for your event, right?
2) Give your sponsors premium screen time: Your goal is to make those sponsor dollars valuable. To give your event sponsors the best bang for their buck, make sure the ads are shown well in advance of the movie.
Many outdoor movie rental providers don't have projectors powerful enough to show sponsor ads for longer than three minutes.
Yep, just three minutes.
Why so little time? Their low-powered projectors can only be used in the dark, which is usually 40 to 60 minutes after the sun sets.
This means that depending on the number of ads shown, attendees may only get one opportunity to see the ads.
That's it.
Our bright, outdoor projection screen can display advertisements for 20 minutes before the movie starts, while there is still ambient light.
Your movie attendees can see your sponsor messages multiple times while milling about and settling in for the flick.
This means more time for ads to be seen, and your movie can start right at sundown! (Great for families who need to get the kids to bed.)
Why do we help you so much with marketing efforts? Because we want you to enjoy the day of the outdoor movie event too! We don't just stop by the day of, rustle up a screen and take off. We work with you during the entire event planning process before you even start publicizing.
Pleasing your advertisers is just as important as pleasing your attendees. Make sure you can put on more fun movie events by following these tips!
What other suggestions would you give event planners for increasing sponsor satisfaction for an outdoor movie event. Talk to us in the comments!
All Rights Reserved
Southern Outdoor Cinema, LLC
"Bigger Screens. Brighter Images. Crisper Sound"
__________________________________
About Southern Outdoor Cinema
Southern Outdoor Cinema takes the stress and guess work out of hosting a movie theater-quality event outdoors and under the stars. Southern Outdoor Cinema doesn't just rent movie screen equipment, but instead we share nearly a decade of movie event production experience with our clients to help them produce outdoor movie nights that are extraordinary. For a free consultation contact Southern Outdoor Cinema at www.SouthernOutdoorCinema.com
Tags : fundraising, how to, outdoor movie, sponsors | Comments Off

on Outdoor Movie Fundraising: How To NOT Lose Sponsors in One Day