Posted by
Paul Murray
on
Monday Jul 23, 2012
Under
Tips
Outdoor movies are an ideal location to introduce new products and promote a brand with samples. The combination of a large crowd, the specific demographics attracted by certain movies, and a fun activity to associate with the product come together to create the perfect marketing opportunity. (Click here to tweet this.)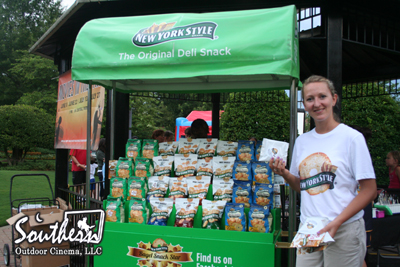 Why Samples?
When launching a new product, offering samples makes a great addition to a complete marketing plan. Distributing samples puts a trial-size of the product into the hands of potential consumers, as well as marketing materials, to familiarize new people with the product and your brand. Consumers love samples because they can try something new before buying it.
Outdoor Movie Events are Ideal
Outdoor movie events are an ideal venue for distributing samples. There can be anywhere from hundreds to thousands of people in attendance, which allows for a high volume of sample distribution on site.
It is typically easy to distribute samples to target consumers at an outdoor movie event. You can often predict the demographic of the crowd based on the movie that will be shown. For example, family friendly movies will attract families with young children. You can easily choose the best events to promote your product with samples by considering the movie that will be shown.
Experiential Marketing and Brand Ambassadors
Outdoor movies are a favorite activity for many people. Fostering a connection between consumers and a brand through positive experiences is a highly effective marketing tactic. By distributing samples at a fun outdoor movie event, you can capitalize on this and create a positive association between consumers and your brand. Outdoor movies are perfect because this type of marketing is most successful when consumers are casually exposed to the product during a positive experience, rather than approached with an outright advertisement for the brand or product.
An outdoor movie event is a great place to send brand ambassadors. Brand ambassadors skillfully represent a brand and make positive connections with potential customers. Your ambassadors can meet new consumers in person, hand out samples, and promote the brand and product in a casual and fun setting.
Marketers use outdoor movie events for sampling new products for a number of solid reasons, including the large crowd, predicable demographics, and the fun, casual atmosphere characteristic of these events. If you are looking for a fresh, new way to promote a new product and your brand, consider offering samples at a movie in the park event.
All Rights Reserved
Southern Outdoor Cinema
2006-2012
###
Want to use this article on your website or your own blog? No problem! But here's what you MUST include:
Southern Outdoor Cinema is the largest producer of PREMIUM outdoor movie events in the country. They are leading the industry with NEW & UNIQUE outdoor movie events. To begin planning your outdoor movie event contact Southern Outdoor Cinema at www.SouthernOutdoorCinema.com or visit their online photo gallery at www.facebook.com/SouthernOutdoorCinema for event ideas.

Tags : brand, experiential marketing, marketing, outdoor movie, sampling | Comments Off

on Experiential Marketing: Sampling At Outdoor Movie Events