Posted by
Paul Murray
on
Wednesday Oct 1, 2014
Under
Tips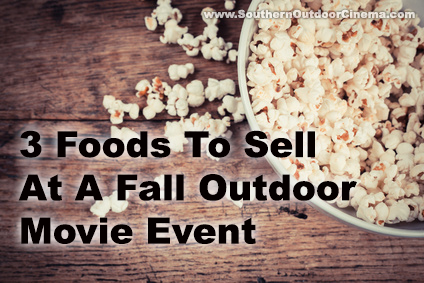 A great way to add spice, charm, and a little bit of magic to your fall time outdoor movie event is to complement the season with the concessions that you offer. Autumn is characterized by a delicious and comforting ensemble of traditional treats and beverages, so embrace the cool nights and favorite flavors and incorporate the tastes of the season into your event.
Below is a list of some classic and easy-to-do options that you can add to your concession stand to enhance the movie goers' experience and embody the harvest season:
Hot Chocolate and Apple Cider
The crisp, starry fall nights need to feel warm and inviting if you are going to have a successful outdoor movie experience. In order to ensure that everyone can enjoy the feature film, you can offer warming drinks at your concession stand. Hot chocolate and apple cider are go-to fall favorites. Easy to make, you can either store the hot beverages in large 5 gallon coffee thermoses, or you can store hot water and then mix up the hot chocolate on-demand with individual packets. For the more ambitious, you might consider incorporating various flavors of hot chocolate into your stand. These days, there are a host of hot chocolate flavors on the market. White chocolate, dark chocolate, mint, and many other options bring pizzazz to a traditional drink. Other hot beverages work well too, such as pumpkin spice lattes and chai tea, but hot chocolate and apple cider are staples of the season, and they are easy to prepare—especially since fall means that apple harvest is in full swing, so apple cider is taking grocery stores by storm!
Sliced Apples with Caramel
Speaking of apples, what would fall be without apples and caramel? In every form, caramel apples are a seasonal delight. You can keep things from getting too messy while at the movies by doling out slices of apple with caramel, rather than handing out whole apples dunked in caramel. So that the caramel stays at the perfect, delectable temperature with the right degree of gooiness, you can store it in a crock pot. To minimize the clean up process, you should put a liner in the crock pot. Different varieties of apples offer different spins on this treat. For a sweeter experience, aim for Red Delicious. If you want a tarter apple, Granny Smith is a good option. Granny Smith pairs exceptionally well with the sweetness of the caramel. Offering chopped peanuts as a topping for the sliced apples with caramel can be a fun way to kick this treat up a notch, but put allergy concerns into consideration when stocking your concession stand.
Kettle Corn
This next idea hearkens to the quaint, homey, heart-warming feel of the country fair: Kettle Corn. Popcorn is a movie favorite because it takes little effort to eat, and it is easy to share with the whole family. Kettle Corn takes the traditional movie popcorn concept and turns it on its side. Same concept, new flavor. Sweet and salty pairs well with being huddled together under a blanket while watching a movie outside. For do-it-yourselfers, here is a link on how to make Kettle Corn in your popcorn machine: https://www.youtube.com/watch?v=DBbihJccuiQ
Outdoor movie events do not have to be summer exclusive. Fall time means that showings can start a little sooner in the day, that there are fewer insects to contend with, and that heat and humidity will not play a role in how comfortable the attendees are. Make your autumn outdoor movie event an all-around great experience by adapting your concessions to the season. Warm apple cider and hot chocolate, fresh apples smothered in gooey caramel, and kettle corn all make for a perfect under-the-stars viewing experience!
All Rights Reserved
Southern Outdoor Cinema
__________________________________
About Southern Outdoor Cinema
Southern Outdoor Cinema, LLC, is the LARGEST producer of high quality outdoor movie events in the United States for movie studios, film festivals, marketing agencies, Fortune 500 Companies, schools and cities. Southern Outdoor Cinema produces extraordinary outdoor movie experiences with big screens and bright and colorful images so that your audience members feel like they are at a real Hollywood film premiere. Contact Southern Outdoor Cinema to receive a free consultation for your next special event.
Tags : concession, fall, popcorn | Comments Off

on 3 Foods To Sell At A Fall Outdoor Movie Event