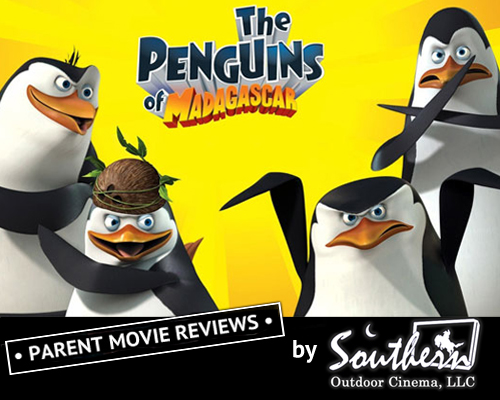 In Penguins of Madagascar the story of the four beloved penguins from "Madagascar," "Madagascar: Escape from Africa," and "Madagascar 3: Europe's Most Wanted" is continued. Once again, this group of elite escapees from New York's city zoo are being led by Skipper through their many challenges. Kowalski, Rico, and Private are also back in this latest Dream Works Animation film. Directed by Simon J. Smith and Eric Darnell, the cast includes the voices of Tom McGrath, Chris Miller, Conrad Vernon, and Christopher Knights. The music composition is by Lorne Balfe, and it is rated PG.
In this movie the team starts out on a new adventure when they hear that penguins around the world are disappearing from zoos. The villain is Dave. Dave is an octopus who was once the star of his animal facility. That was until a group of penguins arrived and stole the show from him. After losing his place as the most popular attraction, Dave seeks revenge.
The penguins of Madagascar set out on the trail of Dave, but there is also another group after him. This is the North Wind, a group consisting of Agent Classified, Short Fuse, Eva, and Corporal. They have been given the assignment of corralling this tentacled villain.
During the story, our Madagascar friends resort to the usual cartoon elements while chasing Dave. Viewers will find plenty of slapstick humor and frenetic action that includes tranquilizer guns, explosions, and a Taser. The audience will also find questionable jokes, rude humor, and sexual innuendo. Most of these questionable aspects are based on the spy genre and will go over the children's heads while being entertaining to the adults.
Positive Element
The moral of this movie is that "It doesn't matter what you look like, it's what you do." The penguins are shown learning how teamwork can be very important in reaching our goals. As always, these guys teach us these valuable lessons through humorous situations.
The character of Dave learns that by seeking revenge he is left with an empty feeling. He discovers that getting revenge doesn't satisfy us as much as one would first think.
Sexual Element
Two male penguins are shown kissing. Other characters are seen slapping each other on the buttocks. The characters do make crude sexually related comments during this film. That includes the phrase "grab your coconuts."
Violent Element
Along with name calling, characters participate in cartoon style, non-graphic violence. This includes punching, slapping, pushing, and shoving. There are characters that are eaten. Action scenes show abductions, explosions, car chases, and car crashes. One of the characters gets tasered. Some of them are sucked into a machine while others are run over.
Characters participate in a break-in and are shown stealing things. Later on they are shot with the use of tranquilizer darts. There are a few scary scenes as well as many moments of peril. One character is seen choking on a paper clip.
Drug and Alcohol Element
Characters are shown drinking champagne. Characters are also seen being shot with tranquilizers.
Conclusion
Penguins of Madagascar continues the story of our favorite arctic birds from the New York City Zoo. They learn to work together for a common goal while going after the villain. Dave learns the mistake of his ways, and he shows us that revenge isn't such a good thing after all. These messages are sent to the audience along with the traditional slapstick humor these penguins are known for.
Parents do need to be aware that some scenes depict images they may not want their smaller children exposed to. They need to expect plenty of action and cartoonish violence throughout the film. Their decision on whether or not to let young children see it will depend on each child's tolerance for the action scenes and crude humor. Those who are familiar with the characters will know what to expect.
____________________
All Rights Reserved
Southern Outdoor Cinema
About Paul B. Murray
Paul is founder of Southern Outdoor Cinema, a rental company for outdoor movie nights and a dad of 2 pre-teen girls. When he is not traveling the South creating outdoor movie nights for communities and schools, he is spending time playing board games, reading books and watching movies with his family.
Tags : movie review, penguins of madagascar | Comments Off

on Penguins of Madagascar – Parent Movie Review by Southern Outdoor Cinema