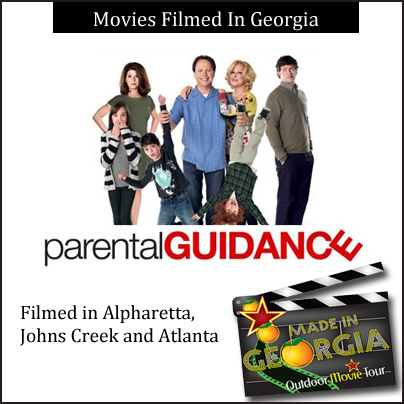 For most people, when the topic of the film industry comes up, Los Angeles, CA is the first location to come to mind. While it is true that Hollywood is an incredibly important place for the film industry and those who work in it, Los Angeles is not the only attractive American location for film makers. Atlanta, GA, and the communities surrounding Atlanta, have served as locations for many movies and television shows. Film makers choose locations based on a number of factors, but generous tax incentives offered by the state of Georgia certainly help to make Atlanta, GA an attractive location.
Parental Guidance, which came to theaters on December 25th 2012, was recently filmed in Alpharetta, GA and at various locations around Atlanta. This comedy is a great movie to see with the whole family, especially for Alpharetta and Atlanta residents, who might recognize some of the locations and faces in this movie. Johns Creek residents, in particular, will enjoy watching the Little League baseball scenes that were filmed at Ocee Park. Ocee Athletic Association players were even chosen as extras in these scenes. Piedmont Park, a beautiful park located near downtown Atlanta, was also chosen for filming.
Students at three area schools, Independence High School, located in Alpharetta, and Avondale Middle School and Atlanta International School, both located in Atlanta, will recognize scenes in Parental Guidance that feature their schools. A park bench scene, for example, was filmed at Independence High School. Other locations include Pebble Trail and First Baptist Church in Alpharetta, Georgia World Congress Center, Bloomingdale's and Underground Atlanta in Atlanta, and Country Club of Roswell, Avondale MARTA station, Coolray Field, Cobb Energy Centre and a Chinese restaurant in areas surrounding Atlanta.
Some challenges did come up during the filming of Parental Guidance. One of the major complications had to do with filming in the winter, rather than the summer as was previously planned. While the actors struggled to keep warm in summer clothing during filming, the production crew got creative to make the locations work. In the house scene, for example, the grass was dead because it was winter so the production crew painted it green.
Parental Guidance is one of many movies filmed in and around the beautiful city of Atlanta. If you haven't seen this movie yet, consider watching it with your family. If you live in or around Atlanta or Alpharetta, be sure to look for familiar places and faces as you watch. Watching a movie filmed in your own hometown is a special and fun experience.
_____________
All Rights Reserved
Southern Outdoor Cinema
Southern Outdoor Cinema of Atlanta, creates extraordinary outdoor movie events that captures all the senses of their client's audience while recreating the nostalgic feeling of a close knit community gathering. For a free event consultation contact Southern Outdoor Cinema at www.SouthernOutdoorCinema.com
Tags : Parental Guidance | Comments Off

on Parental Guidance Movie Filmed in Alpharetta and Around Atlanta