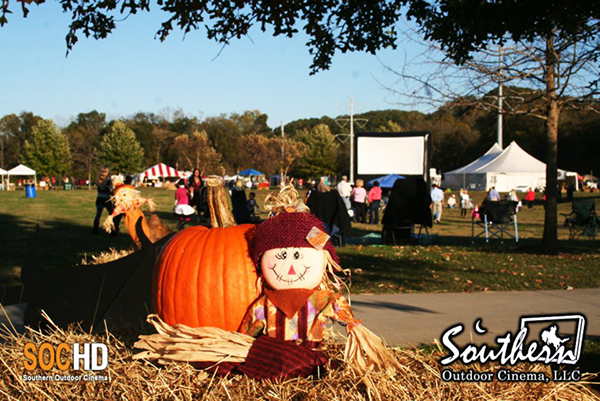 A crisp breeze blows in to signal that summer is leaving and autumn is arriving. As producers outdoor movie events, we are particularly adoring to nature and its surroundings. Though we think every season has its own beauty, here are 5 reasons why we love hosting movies outdoors in the fall:
Fall Provides A Colorful Backdrop For Hosting Outdoor Movie Events
What makes watching a film outdoors special is the setting. With a beautiful canopy of red, yellow and orange leaves, changing fall foliage provides a magnificent backdrop for watching a film outdoors on a giant inflatable movie screen.
Warm apple cider is the flavor of autumn
Oh how sweet a cup of apple cider can be to drink while watching a movie during a crisp night. Offering warm harvest apple cider during a chilly night is the perfect concession item during autumn events.
Fall Festivals
We are suckers for fall festivals because decorating is so easy. Simply add a scarecrows, some pumpkins and corn stalk and you instantly created a feeling of autumn at your movie event.
Earlier projection start times for outdoor movies
The hot summer days with long days of sunlight are now behind us. Fall has shorter days with earlier sundown times. To show a movie outdoors, it is necessary for it to be dark outside or close to dark, so that the film can be projected onto the movie screen. Well, in the fall the sun sets much earlier than summer, up to 3 hours earlier so, an outdoor movie presentation in autumn can begin much earlier now.
Hay bale seating
We love rustic seating areas made from hay bales with blankets thrown over them. Hay bales provide a good height for seating and their natural charm ties in perfectly with the ambiance of an open air venue. Hay bale seating is great low cost alternative to renting chairs for your guests.
Leave us a comment and let us know what you love about fall.
All Rights Reserved
Southern Outdoor Cinema, LLC
__________________________________
About Southern Outdoor Cinema
Southern Outdoor Cinema takes the stress and guess work out of hosting a movie theater-quality event outdoors and under the stars. Southern Outdoor Cinema doesn't just rent movie screen equipment, but instead we share nearly a decade of movie event production experience with our clients to help them produce outdoor movie nights that are extraordinary. For a free consultation contact Southern Outdoor Cinema at www.SouthernOutdoorCinema.com
Tags : fall, fall festivals, outdoor movies | Comments Off

on 5 Reasons We Love Fall Outdoor Movie Events