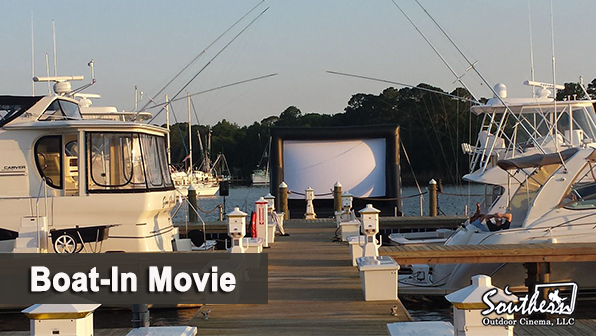 Imagine sitting in your boat relaxing as the sun sets. Along with enjoying the peaceful evening, sounds of lapping water, and a beautifully colored sky, you get to actually watch a drive-in style movie. This is exactly what a marina in the Florida Gulf Coast decided to for their fellow boaters.
This marina was trying to think of ways that they could add to the fun the boaters already enjoy on the water. It needed to be a family friendly event that stood out from the typical summer festivities. That's when they thought to themselves "how about a drive-in style movie?"
Boat-In Movie
There were many challenges that faced them as they started to put a plan in motion. First of all they needed to figure out how to set up a movie screen that could easily be seen from all the boats in the bay. If it was set up on land, the marina would be packed, and guests wouldn't get a good view. There was also the issue of sound. How would everyone be able to hear the movie? Of course this is the gulf, and the issue of winds had to be taken into consideration as well.
Rather than give up on this wonderful idea, the marina turned to South Outdoor Cinema for help. SOC specializes in setting up outdoor inflatable movie screens in unusual and difficult venues. They knew just what to do to bring this dream event to life.
Movie Screen On A Barge
With the use of a high-end mobile outdoor movie screen system, South Outdoor Cinema was able to set up the inflatable movie screen on a large barge. The barge was able to float out into the bay right along with all the boats. This gave boaters more room, along with excellent views from many locations.
An FM transmitter was used to broadcast the movie's soundtrack. This is similar to how the actual land locked drive-ins broadcast their movie's sound to cars. It was the perfect solution. The sound would be directly broadcast to each boat.
Unique Viewing Experience
Once everything was in place, it was time for the event itself. Guest began to show up on their boats, and they filled the bay with families who were eagerly anticipating this big event. The weather totally cooperated, providing everyone in attendance with a beautiful sunset as an intro to the main feature. As the natural light faded away, the family friendly movie began, and the boaters were treated to a new and unique form of entertainment.
People who attended were highly pleased with the experience. Being able to watch the movie from their own boats not only gave them one more excuse to go out on the bay, but it created memories their friends and family won't soon forget. Over all, it was a relaxing evening for all who came. Boaters brought along picnic style dinners and plenty of snacks to add to the fun. Parents got to spend some quality time with their little ones, and everyone went home very happy with how it all turned out.
All Rights Reserved
Southern Outdoor Cinema, LLC
__________________________________
About Southern Outdoor Cinema
Southern Outdoor Cinema, LLC, is the LARGEST producer of high quality outdoor movie events in the United States for movie studios, film festivals, marketing agencies, Fortune 500 Companies, schools and cities. Southern Outdoor Cinema produces extraordinary outdoor movie experiences with big screens and bright and colorful images so that your audience members feel like they are at a real Hollywood film premiere. Contact Southern Outdoor Cinema to receive a free consultation for your next special event.
Tags : boat in movie, fm transmitter, outdoor movie | Comments Off

on Mobile Movie Screen Provides Movie In The Bay