Posted by
Paul Murray
on
Monday Aug 27, 2012
Under
Tips
If you are planning an outdoor movie event, you will want to make sure it's a success so that the guests enjoy themselves and the time and money you put into planning is well spent. Here are 5 tips for hosting a great outdoor movie event.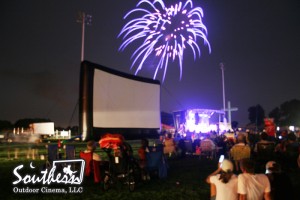 Good Venue
Location, location, location: this phrase applies to both real estate and outdoor movies. One of the best things about an outdoor movie is the chance to watch a movie in a unique and beautiful location; as an organizer, you must choose a good venue for your event. Portable inflatable movie screens mean that your event can be held at a park, a historical site, on the beach, or even in a parking lot if needed. Just be sure there is a comfortable sitting area and ample parking for your expected crowd. It is also a good idea to choose a safe location with minimal noise distractions. (Click here to retweet this.)
Great Movie
Choosing a movie is one of the most important decisions you will need to make as you plan your event. Pick a new, popular movie to attract a large crowd. You must also choose a movie that is appropriate for your target audience. If you are promoting your event as a family friendly event, it is essential to pick an appropriate movie. Make sure you consider the MPAA rating, check reviews and view the movie yourself before deciding if it is the right movie for your event.
Experienced Equipment Provider
Your equipment provider is an essential part of your success. An experienced provider will have the right equipment to create a high quality movie experience, complete with a clear picture and great sound. In addition, a seasoned provider will know what to do in case of unexpected circumstances like inclement weather.
Well Thought-Out Marketing and Advertising
You can plan a great movie night, with a good movie, the perfect venue and high quality equipment, and not get the turnout you were hoping for if you do not follow a carefully planned marketing strategy. Use a variety of advertising mediums, including event posters and social networking, to attract a large crowd.
Friendly Volunteer Staff
You will need volunteer staff to play a variety of roles; these roles might include parking attendants, greeters, survey collectors and concession stand workers. Your guests will have the best experience if your volunteer staff is friendly, knowledgeable and helpful.
All Rights Reserved
Copyright 2006-2012
Southern Outdoor Cinema
###
Want to use this article on your website or your own blog? Here's what you MUST include:
Southern Outdoor Cinema is the largest producer of high quality outdoor movie events in the country. We don't just rent inflatable movie screens. Instead SOC shares nearly a decade of expertise with our clients so that they have an EXTRAORDINARY outdoor movie event which is EASY and STRESS-FREE to organize. To begin planning your outdoor movie event contact Southern Outdoor Cinema at www.SouthernOutdoorCinema.com or visit our Facebook page at www.facebook.com/SouthernOutdoorCinema for daily outdoor movie tips.

Tags : Event Planning, inflatable movie screen, organizer, outdoor movie | Comments Off

on 5 Tips for Hosting a Great Outdoor Movie Event