Posted by
Paul Murray
on
Tuesday Jul 17, 2012
Under
Tips
The Olympics seem larger than life. The best athletes from all over the world come together to compete, and the world watches, completely captivated. Sports fans and non-sports fans alike share a love of the Olympics. What better way to watch the Olympics than to watch it on a huge screen? (Click here to tweet this.)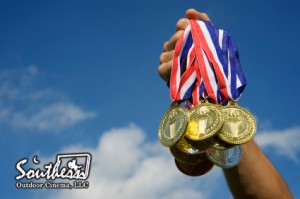 When you think of an inflatable movie screen, you might think of a movie in the park that you attended, or even a backyard movie party. Did you know that, in addition to showing movies, inflatable movie screens can be used to broadcast live events? Inflatable movie screens can be set up almost anywhere, and are available in many sizes, to accommodate small groups, or even groups as large as 10,000.
High quality inflatable screens offer a clear, bright picture for viewers to enjoy. A large, clear picture enhances the experience when you are watching a monumental event like the Olympics.
The Olympics are a perfect fit for this type of broadcast. Olympic events can be viewed on the big screen outdoors at night, or even during the day, in a gym or aquatics center. The large screen will provide an unforgettable, larger than life experience. Since inflatable movie screens are portable and require minimal set up and clean up time, you could gather with friends and family and host an Olympics party almost anywhere. You could even host a poolside event during a swim competition broadcast.
If you are on a sports team, or you are the coach, you could get your team together to watch as your sport is broadcasted. Gather the track team on the field in the middle of the track, or host a "dive-in" movie event at the pool for the swim team to watch a swim competition together as a team.
After the Olympics, keep the feeling of competition going by showing Olympic themed movies, such as Cutting Edge, Blades of Glory, Cool Runnings, or Chariots of Fire.
Watching the Olympics is an unforgettable experience, whether you are a sports fan or not, and no matter where you watch it. There is no better way to watch such a huge event than on the big screen, though. A big screen makes this already huge event seem even bigger, and the large screen allows a big group of family or friends, or a sports team, to enjoy Olympic events together. Watch the Olympics on a big screen this year for an unforgettable experience.
All Rights Reserved
Copyright 2002-2012
Southern Outdoor Cinema
###
Want to use this article on your website or your own blog? No problem! But here's what you MUST include:
Southern Outdoor Cinema is the largest producer of PREMIUM outdoor movie events in the country. They just don't rent screens, but instead share nearly a decade of expertise with their clients so that they
have an EXTRAORDINARY outdoor movie event which is EASY and STRESS-FREE to organize. To begin planning your outdoor movie event contact Southern Outdoor Cinema at www.SouthernOutdoorCinema.com or visit their Facebook page for daily outdoor movie tips at www.OutdoorMoviesFacebook.com.

Tags : live-broadcast, olympics, outdoor movie | Comments Off

on Inflatable Movie Screens Provider Larger Than Life Viewing Of The Olympics