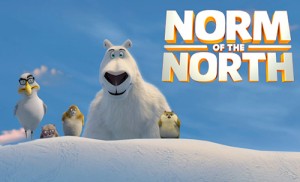 The norm of the North is an American animated adventure of a polar bear (Norm), who can communicate with people. The animated comedy film was directed by Trevor Wall and features voices of among others Heather Graham, Rob Schneider to name a few. This movie released on January 15th is a production of Splash Entertainment and Assemblage Entertainment.
In the Movie Norm of the North, it starts with a failed attempt of the polar bear (Norm) to catch a seal and when he finally manages to capture it he reveals his reasons for not being a killer. He also reveals that he, like his grandpa, is a rare polar bear with the ability to talk to humans. These makes Norm get teased and scoffed at by other bears and animals in his community. Norms only friends in the community is the little lemmings. His father, the polar bear king of the north, is too disappointed by Norm's kind hearted nature.
In this tale Norm and other bears, caribou, seals to name but a few are renowned for having a significant dance performance to entertain tourists at their winter home in the Arctic. Visitors can't get enough of a dancing, back-flipping, twerking polar bear who somehow knows their lingo. Animals start getting steamed when they realise that a lot of humans are flocking the frozen north with the aim of turning the Arctic wilderness into a vacation home destination something that gets Norm alarmed too. Norm determined to put an end to the arrival of luxury mobile condos, he and his three lemmings friend sneak onto a cargo ship headed to New York City.
When in New York City Norm learns that Greene Homes, the company behind the building of holiday luxury condos in his Arctic home is hiring a spokesperson for promotion purposes of the holiday homes. Norm pretends to be a human dressed in a bear costume and auditions for the part. Norm is convincing that he gets hired by Vera the company's marketing manager. Norm starts to gain popularity and struggles with when to reveal his identity and convince the people not to allow Greene's plan of building holiday condos in the frozen north.
Violence Content
In the tale Norm's lemming friends appear to be virtually indestructible. They however at some point get stomped on, flattened, battered about to name, but a few of the wrath they face, and they seem to come back to normal with little noticeable damage. There are instances in the tale where Norm is seen to swallow several live blowfish whole as well as an orca gobbling up a seal.
Norm and his grandfather thump into speeding cars and are seen falling from a high height into the ocean depths where Norm gets pinned to the ocean floor by a large piece of metal debris.
Also, there is a man dressed as a bear seen fighting with two guys as well as humans and animals who are seen shot at by tranquilizer darts.
Sexual content
In the film when Norm and other animals are putting on a performance for the tourists, Norm is required to wear a purple spandex suit. A character Vera yells Norm; please come out of which Norm takes a quick look at his attire and replies that he thinks he just did come out. There is a scene where Norm the fully furred bear is seen dropping his bath towel.
Norm is also seen urinating in a fish tank and potted plants as well as many backsides seen being poked and wiggled at the camera.
Drug and Alcohol Content
There is no drug or alcohol use in this film. However, there is a scene where a man says that he smells like sweet vermouth that is an aromatized wine flavoured with among others spices, flowers, seeds to name a few.
Conclusion
What parents should know about the Norm of the North movie is an animated adventure involving a polar bear who communicates with humans and is on a mission to protect his Arctic home from turning into a holiday home destination. The movie has lots of jokes that will have your kids laughing.
_____________
All Rights Reserved
Southern Outdoor Cinema
Southern Outdoor Cinema of Atlanta, creates extraordinary outdoor movie events that captures
all the senses of their client's audience while recreating the nostalgic feeling of a close-knit
community gathering.  For a free event consultation contact Southern Outdoor Cinema atwww.SouthernOutdoorCinema.com
Tags : Norm of the North, parent movie review, southern outdoor cinema | Comments Off

on Parent Movie Review: Norm of the North