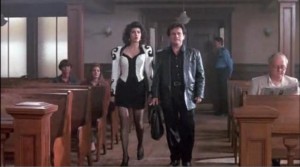 'My Cousin Vinny', starring Joe Pesci, Ralph Macchio and Marisa Tomei, is a 1992 comedy. The film follows two New Yorkers, Bill and Stan, who are travelling through a rural Alabama town and find themselves falsely accused of murder. Bill and Stan get Bill's cousin, Vinny, to defend them even though he is a personal injury lawyer who was newly admitted as a lawyer and isn't quite sure what he is doing during most of the trial. Marisa Tomei won an Academy Award for her supporting role in the film. The movie is set in the fictional Beechum County in Alabama, but was actually filmed in Georgia.
'My Cousin Vinny' took to several Georgia locations for filming. One of those locations was Alto, Georgia. The scenes in the film that take place in the state penitentiary were filmed at the Lee Arrendale Correctional Institute in Alto. The facility is located at 2023 Gainesville Hwy outside of Gainesville. Since the filming of the prison scenes took place here, the prison has become a women's prison facility.
Filming for 'My Cousin Vinny' also took place in Monticello, Georgia. The exterior courthouse scenes were filmed at the Jasper County Superior Court that is located in the town square. The scene where Bill and Stan are interrogated and where they are eventually charged with murder, was filmed at the Jasper County Sheriff's Office. There were also various other shots of the town square that can be seen in the movie. A restaurant scene in the film where Vinny and his fiance get into a fight was filmed at what is now called Dave's BBQ and Soul food, (it was called Dave's Bar-B-Que and Seafood during filming), located in the town square. The Sac-O-Suds convenient store in the beginning of the film, (where all of the trouble starts for Bill and Stan), was an actual convenient store located in Monticello during the time filming took place. It is no longer open.
Outside of Eatonton, Georgia, there is the General Putnam Motel. This motel was featured in a few scenes of the movie. It is the motel where Vinny and his fiance stay when they first get to the fictional Alabama city to help out Bill and Stan. There is a restaurant attached to the motel as well, where a scene was filmed. The motel is located at 744 Madison Road.
Other filming locations for 'My Cousin Vinny' include a plantation located in Bostwick, and a few inside courtroom scenes that were filmed in Covington.
'My Cousin Vinny' was highly praised for its accurate portrayal of what happens in a courtroom during a trial. It is currently available on both DVD and Blu-ray.
_____________
All Rights Reserved
Southern Outdoor Cinema
Southern Outdoor Cinema of Atlanta, creates extraordinary outdoor movie events that captures all the senses of their client's audience while recreating the nostalgic feeling of a close knit community gathering. For a free event consultation contact Southern Outdoor Cinema at www.SouthernOutdoorCinema.com
Tags : 'My Cousin Vinny', filmed in georgia | Comments Off

on 'My Cousin Vinny' Filmed in Georgia