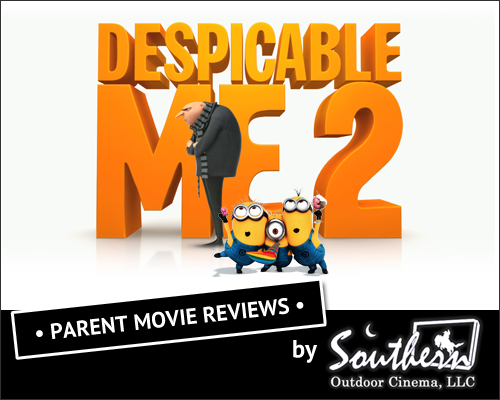 Despicable Me 2 – Parent Movie Review by Southern Outdoor Cinema
MPAA RATING: PG
GENRE: Animated / Children
It wasn't very long ago that Gru was playing the part of the villain, out to destroy the world, but look at just how drastically things have changed. Rather than plotting against government organizations, like the Anti-Villain League, Gru is being recruited to work as an agent for this secretive group. His would be mission; to catch the evil perpetrator of a horrendous heist that involved an entire arctic research lab, and a transmutation serum capable of turning completely innocent creatures into indestructible monsters.
The only problem with this entire scenario is that Gru isn't sure that he wants to become the secret agent that the Anti-Villain League thinks he is capable of becoming. Well, that and the fact that his three little girls are totally into the idea of their already amazing dad becoming a secret agent. There are, however, advantages to taking the Anti-Villain League up on their offer and the biggest, as with all secret agent stories, involves a female secret agent. Agent Lucy Wilde, Gru's would be partner, might be a little controlling but that doesn't concern Gru in the least bit. This is probably because Lucy has a way of making Gru go weak in the knees whenever he is around her.
The overall theme of the movie is one of family, fatherhood, and the love shared between a father and his 3 little adopted daughters.
Violent Element
As with most other secret agent stories, there is an abundance of action packed moments ranging from the occasional bumps and bruises that Gru experiences while fumbling into his role as a secret agent, to the menacing monster rabbit who attacks everyone in the lab. Even a few of the adorable yellow minions are morphed into ferocious beasts who spend a good amount of time wreaking havoc on everyone.
The PX41 serum plays a big role in much of the violence that occurs throughout the later half of the movie. It is this serum that is responsible for morphing the cute little bunny rabbit and the few yellow minions into the monsters they become. When monsters aren't eating the good guys, minions are bopping each other on the head, and Gru & Lucy are getting knocked around quite well.
Sexual Element
Gru's cute little girls feel that Gru is over due for a date and he gets set up on one that ends up being a bit steamy. The sultry female that he goes out with bares a little too much cleavage and lips that just don't quit. There is also a matter of the adorable little yellow minions, and the fact that they end up out of their outfits at several points throughout the movie. One minim, in particular, drops a towel that was being used to cover up a bare body exposing an anatomically correct backside.
Drug & Alcohol Element
One of the characters in the movie, named El Macho, sips on tequila that has been spiked with a snake venom. And Gru's date ends up getting knocked unconscious from a moose tranquilizer dart administered by Lucy.
Conclusion
It was difficult to imagine exactly which direction this sequel would take but thankfully it ended up taking a surprisingly sentimental one. The former villain, now turned loving dad, plays a great role throughout the entire movie. The story of a single father, who adopts three cute little girls, is one that sits just right with many movie goers however, the slapstick humor will have a few families cringing for sure. The question is, from which eyes do you see the story behind this movie through? The answer to this question will determine whether a family chooses to watch, or not watch, Despicable Me 2 in the end.
__________
All Rights Reserved
Southern Outdoor Cinema
About Paul B. Murray
Paul is founder of Southern Outdoor Cinema, an outdoor cinema event production company and a dad to 2 pre-teen girls. When he is is not traveling to create outdoor movie nights for communities, he is spending time playing board games, reading books and of course watching movies with his girls.
Tags : despicable me 2, movie, movie review | Comments Off

on Despicable Me 2 – Parent Movie Review | Southern Outdoor Cinema