Posted by
Paul Murray
on
Tuesday Apr 24, 2012
Under
Tips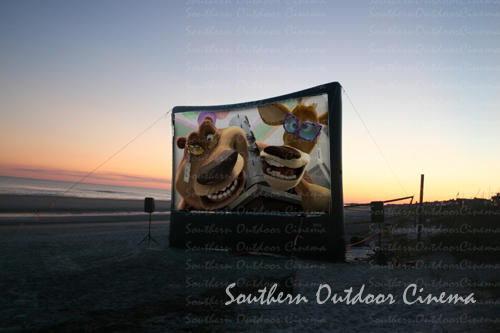 Choosing a start time is an essential part of the planning process for a successful outdoor movie event. The start time you choose will be partially unique, based on your particular audience and preferences, and also dependent on the equipment being used to present your outdoor movie.
This guide will help you gain a better understanding of outdoor movie start time terms, and how the equipment provided by the outdoor movie production company can have an effect on the success of your event.
Outdoor movie events take place at night, when the dark makes it possible to view a movie as you would in a dark movie theatre. When, exactly, can your event begin, though? The terms dusk and sundown are not always clearly understood. Sundown refers to a time when dark is approaching, but ambient light is still in the sky. The sun is going down, but still in the sky. Dusk, which occurs about thirty minutes following sundown, is when darkness truly falls.
Many movie companies use equipment that requires the client to wait until dusk, or sometimes even later, to begin the movie. The equipment is not theatrical grade, and is made of see-through materials. These types of screens will cause the projector to lose up to 50% of its brightness. As a result, the picture is not as clear, and the movie absolutely must not start until complete darkness falls after dusk.
Southern Outdoor Cinema uses the latest and most advanced inflatable movie screen technology. We use commercial grade movie screens produced by these top manufacturers: Airscreen, OpenAir Cinema, and Epic. The screens are theatrical grade, with highly reflective surfaces, like you would find in a movie theatre. The term Gain Factor is a measure of reflectivity; higher Gain Factors produce brighter images. Our theatrical grade, highly reflective inflatable movie screens, along with our high definition projectors, allow our clients to begin movie nights 5-10 minutes before dusk.
This flexibility in movie start time options comes with a variety of advantages for our clients.
First, parents or others organizing child and family friendly events will love being able to start the movie earlier, so children are not up too late.
Next, images will be brighter, more colorful, and crisp, creating the ultimate movie experience.
Finally, there is a black backing on the back of our high quality screens, so that ambient light will not effect the screen surface as much as it would with a cheap screen without this backing. On a cheaper screen that is not theatrical grade, a light on a building, for example, can show through the screen, making dark scenes difficult to see.
Southern Outdoor Cinema prides itself on offering the highest quality equipment, so that your event can be a success.
All Rights Reserved
Southern Outdoor Cinema
"Bigger Screens. Brighter Images. Crisper Sound."
###
Want to use this article on your website or your own blog? No problem! But here's what you MUST include:
Southern Outdoor Cinema is the largest producer of PREMIUM outdoor movie events in the country. They are leading the industry with NEW & UNIQUE outdoor movie events. To begin planning your outdoor movie event contact Southern Outdoor Cinema at www.SouthernOutdoorCinema.com or visit their online photo gallery at www.facebook.com/SouthernOutdoorCinema for event ideas.

Tags : dusk, inflatable movie screen, movie start time, outdoor movie, sunset | Comments Off

on Understanding Dusk and Sundown and How They Effect Outdoor Movie Start Times