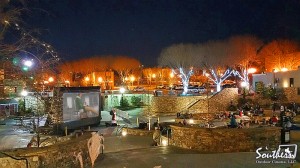 The winter months can be long and cold. Many of us simply stay inside while waiting for spring to arrive, but now there are several communities that have found a way to ward off that dreaded cabin fever. Why wait until summer to go outside and enjoy time with your family and friends? You can do it now with the help of a portable ice skating rink and an inflatable movie screen.
From coast to coast, many cities and downtown communities throughout the country are renting portable ice skating rinks. These rinks provide hours of family fun for all ages. Once they are set up, they instantly become a centerpiece for any city or tourist destination. People come from near and far to join in on the winter time fun.
Outdoor movies are no longer just for the summer time. Communities are using outdoor movie events to draw attention to their portable ice skating rinks. By doing this, they are creating a unique and memorable ice skating experience. The inflatable screen can be placed directly on the ice, or next to the rink, where everyone will have a good view of the featured presentation.
Recently Southern Outdoor Cinema traveled with their crew to South Carolina to create a winter film event experience. In the downtown business district, the screen was set up in front of the ice skating rink. The rink made a beautiful backdrop for the holiday movie they played. Best of all, this outdoor movie event drew attention to the town's ice skating rink.
The evening of the event began with a showing of a much loved Christmas movie. Guests were able to sit in lawn chairs they brought from home or on the many stone walls and public benches found in this part of the downtown area. The event hosts decorated around the rink with greenery, wreaths, and Christmas trees with white lights. There was even an inflatable penguin next to the screen that waved "hello" to all who came. The decorations were a wonderful addition to the already festively decorated city.
All who came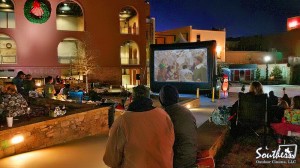 kept themselves warm with blankets and the hot chocolate that was being served. It was a terrific way to spend time with their neighbors and friends from the community as well as get out of the house for some winter time fun. After enjoying the movie, families were encouraged to stay and skate.
Guests of all ages had a fabulous time. The memories made at this outdoor movie event will last a lifetime. Every child there will grow up remembering the Christmas season when they watched a holiday movie under the stars and then went ice skating with all the people they love the most.
_____________
All Rights Reserved
Southern Outdoor Cinema
Southern Outdoor Cinema of Atlanta, creates extraordinary outdoor movie events that captures
all the senses of their client's audience while recreating the nostalgic feeling of a close-knit
community gathering.  For a free event consultation contact Southern Outdoor Cinema at www.SouthernOutdoorCinema.com
Tags : holiday festival, movie night, movie on ice, Outdoor Movie Event, southern outdoor cinema | Comments Off

on Movie On Ice