Posted by
Paul Murray
on
Wednesday Feb 17, 2016
Under
Tips
Why Host A Movie Night at Church?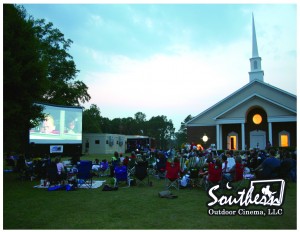 Hosting a movie event in a church may sound like a strange idea to many people, but it actually makes a lot of sense. After all, movies tell a story. These stories can have a profound impact on how we feel, think, and behave. Jesus was a story teller. He told stories about the kingdom of God in order to communicate the truth about Himself. Still today, stories teach us valuable lessons, history, and the truth.
The stories found in today's movies can challenge us to be better as well as inspire us. They motivate us, causing little boys to dream about growing up to be heroes. They teach little girls the value of living happily ever after. Many of these stories we've heard while sitting on our parents' laps. Stories have the power to make us cry, and sometimes, they make us feel angry. Above all else, they help shape us, and they give us a way to express ourselves to others.
Today we rely on movies to tell our stories. The settings, plot, and characters make us laugh and cry. Movies, just like any story, motivate us to change ourselves along with the world around us. They can be quite powerful, and as part of a huge cultural phenomenon, we tend to spend large amounts of energy and time on them.
Since these films are the story tellers of today, why not have them in our churches? Faith based movies are an excellent way to increase your church's growth by reaching out to those who might not visit otherwise. These movies can depict the greatest story ever told in a new, relatable way that everyone can appreciate. Faith based films offer a starting point for Bible studies and group discussions focused on the characters and the plot of a movie.
Hosting a movie event in your place of worship is a wonderful way to reach out to the community. Many people are more likely to go see a movie than attend a church service, but once they see a movie's compelling preview, they'll find themselves excited about entering your sanctuary. The movie offers these people the perfect reason for visiting a church. You're opening your doors to them, providing the opportunity to share your beliefs and the gospel in a uniquely powerful way.
An Atlanta area church hosts a movie night in their sanctuary on Valentine's Day each year. Southern Outdoor Cinema helps them transform their church into a theater setting by installing a portable cinema screen at the front of the sanctuary. Guests can set in the pews to view the movie. Faith based films are chosen for the feature presentation. The stories told by these movies offer those who are new to the church a way to start conversations. This has helped the church reach out to those within their community in a way they may otherwise not have been able to.
_____________
All Rights Reserved
Southern Outdoor Cinema
Southern Outdoor Cinema of Atlanta, creates extraordinary outdoor movie events that captures
all the senses of their client's audience while recreating the nostalgic feeling of a close-knit
community gathering.  For a free event consultation contact Southern Outdoor Cinema at www.SouthernOutdoorCinema.com
Tags : family movie night, inflatable movie screen, movie night at church, movie night tips, southern outdoor cinema | Comments Off

on Why Host A Movie Night At Church?