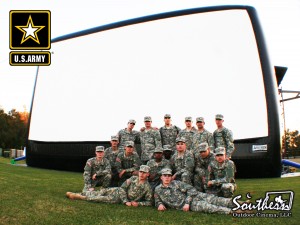 INSPIRE verb \in-ˈspī(-ə)r\
Definition of INSPIRE: to influence, move, or guide by divine or supernatural inspiration.
In sports, it has become tradition that coaches must give their team an emotional message before sending them into competition. We have observed the magical powers of the "win one for the Gipper" speeches from such movies as Hoosiers.
Movies are also used to inspire. In the movie Facing the Giants, the turning point of inspiration was when the coach asks the captain of his football team, Brock, to do the death crawl on the field. Brock had resigned himself to losing the next football match, so the coach wanted to show him that he can actually triumph in "facing the giants" if he only kept going and doing his best.
In October 2009, the 3rd Heavy Brigade Combat Team, 3rd Infantry Division officially began its fourth movement overseas in six years. To mark the moment and provide an appropriate send off for those soldiers awaiting deployment again, Maj. Gen. Tony Cucolo, commander of the 3rd Infantry Division, visited the troops. Cucolo, along with 3rd HBCT commander Col. Pete Jones, addressed the troops during what is called a "color casing ceremony," a symbolic event that readies the unit's colors for movement and marks the beginning of the brigade's deployment to Iraq.
Another inspirational event was also held for the troops on base before their deployment … a showing of the movie "Rudy". The movie is about the true-life story of Rudy Ruettiger, a small town boy who has dreams of joining the Notre Dame football team. After graduating high school, Rudy works in the local steel mill with the rest of his family as expected, but his boyhood dreams of playing Notre Dame football resurface when a mill accident claims a friend's life. Rudy leaves home to pursue his dream, and although he struggles with a learning disability, he gains admission to Notre Dame. Despite his small build, his display of undying motivation and determination during football tryouts and practices earns him a spot on the team and, ultimately, a chance to run out of the famed tunnel and into the hearts of dreamers everywhere.
The presentation of Rudy to the troops was shown outdoors on the largest inflatable movie screen in the South. Rudy illustrates inspiration for achieving the impossible. The movie is a great illustration of how self-confidence, hard work, and persistence will help you achieve any goal.
All Rights Reserved
Southern Outdoor Cinema
Content and Photos may not be duplicated without permission.
www.SouthernOutoorCinema.com
Tags : Inspiring the Troops, Military, Military Base Events, Military Families, outdoor movies | Comments Off

on Military uses outdoor movie to inspire troops