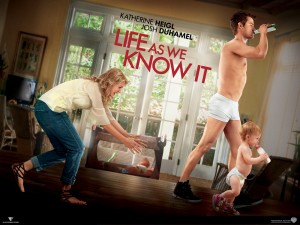 The romantic comedy-drama, 'Life as We Know It' was released in 2010 and stars Katherine Heigl and Josh Duhamel. The movie is about two people, Holly and Eric, who were set up on a blind date by their best friends and end up hating each other almost instantly. After a few years, and after their best friends marry and have a child, the friends are killed in a car crash. Unbeknownst to Holly and Eric, they were named joint guardians of their friends' daughter, Sophie. Putting their differences aside, the two move into Sophie's home to take care of her. 'Life as We Know It' was both set in and filmed in Georgia.
In the film, both Holly and Eric have jobs that are frequently showcased throughout the movie. Holly owns a bakery called, Fraiche, in the film. The set for this bakery was at the Belly General Store at 772 North Highland Ave, which is northeast of downtown Atlanta. The production crew did have to make some changes to the store for filming purposes, but the owner was very flexible and allowed them to do what they needed. Eric's job in the film is as a television technical sports director for the Atlanta Seahawks. The production company had been prepared to build a set to depict Eric's job location, but Turner Broadcasting System, Inc allowed them to film at their location. Turner Broadcasting System, Inc is located at 1050 Techwood Dr in Atlanta. Filming was done in a production booth that included switchboards and monitors, among other production booth amenities, that allowed for a realistic setting. The NBA also stepped in and allowed real footage from a Seahawks game at Phillips Arena to be shot and used in the film. They also allowed access to the arena when it was empty, where they shot a pivotal scene for the character, Eric.
Some filming was also done in Norcross, Georgia and in the Buckhead area of Atlanta. The wealthy, Atlanta neighborhood was the setting for the home of Sophie. This is the home Holly and Eric later move into in order to take care of Sophie. Several movies have used homes in Buckhead for filming locations, including 'The Blind Side' and 'What to Expect When You're Expecting'. The location is often used due to the spacious homes that allow for cameras and crews to easily get around.
'Life as We Know It' is currently available on Blu-Ray and DVD.
_____________
All Rights Reserved
Southern Outdoor Cinema
Southern Outdoor Cinema of Atlanta, creates extraordinary outdoor movie events that captures all the senses of their client's audience while recreating the nostalgic feeling of a close knit community gathering. For a free event consultation contact Southern Outdoor Cinema at www.SouthernOutdoorCinema.com
Tags : Life as We Know it | Comments Off

on 'Life as We Know It' Filmed in Georgia