The library is a place for people of all ages to gather, read and enjoy the company of other community members. It can be difficult at times to create excitement in the community about the library and what is has to offer, and to encourage new visitors. Libraries often seek ways to encourage community members to visit the library and read by hosting events and featuring reading programs where all of the patrons involved in the program read the same book or books, and sometimes get together after reading to discuss the book.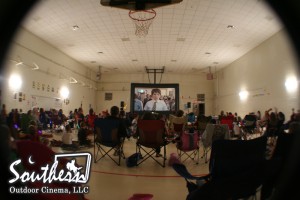 A fun twist on a traditional book club is to pair a reading program with an outdoor movie event. A book that has been adapted to film can be read and then all members can gather at the close of the program for a showing of the film. A discussion of the book and the film, and of the similarities and differences between the book and the movie will make an interesting end to the fun evening.
There are a variety of book to film projects coming up in 2012 and 2013. For children, The Lorax, Adventures of TinTin and 20,000 Leagues Under the Sea will make excellent choices for children's reading groups and movie events. For adults, film adaptations of the popular books The Girl With the Dragon Tattoo, Water for Elephants and The Hobbit will be coming out in the next year or two.
An event to celebrate an author's birthday is another way to bring people into the library. For example, Dr. Seuss's birthday could be celebrated by showing a film adaptation of one of his books, such as Horton Hears a Who or The Cat In The Hat.
Bookstores might also consider hosting an outdoor movie event featuring a film adaptation of a popular book. The event will serve as a great marketing tactic for the bookstore, as it will draw in crowds and possibly even encourage sales of the book being shown in film version.
An inflatable movie screen can be placed almost anywhere to create an outdoor cinema experience at a library or bookstore. The parking lot, a grass area or even inside the building can be easily transformed for the evening. A variety of screen sizes can accommodate any group.
New inflatable move screen technology is now available to make hosting an indoor event more enjoyable.
New blower-less inflatable movie screens help create a superior indoor movie event with no noise to detract from the movie experience. Although an outdoor movie under the stars is a wonderful experience, sometimes issues like inclement weather or inadequate outdoor space make hosting an indoor movie event more practical.
Many libraries are trying new ways to encourage community members to visit the library and read more. Bookstores are always looking for ways to bring in new customers and encourage sales. An outdoor (or indoor) movie event featuring a film adaptation of a book is a unique way to get people excited about their local library or bookstore, and reading
Southern Outdoor Cinema, LLC, is the LARGEST producer of outdoor movie events in the United States for professional sports teams, movie studios, film festivals, marketing agencies, Fortune 500 Companies and cities. Using cutting edge outdoor cinema equipment paired with a proprietary movie event planning system, Southern Outdoor Cinema helps clients create highly successful and highly entertaining outdoor movie events. To learn more about Southern Outdoor Cinema, visit http://www.SouthernOutdoorCinema.com
All Rights Reserved
Southern Outdoor Cinema
"Bigger Screens. Brighter Images. Crisper Sound."
www.SouthernOutdoorCinema.com
Tags : Library Event, movie night, Scholastic Event | Comments Off

on Get Community Members Excited About Reading With an Outdoor Movie Event