Disney offers some of the best opportunities for those who would like to explore a unique experience. During the movie fundraiser themed around Disney's Up movie, many students got an opportunity to interact with each other while also enjoying more other facilities. The theme that was created that day was meant to clearly bring out Disney's whimsical arrangement.
Venue: school campus in Knoxville, TN
The event, which happened in the school campus in Knoxville, TN, brought together students from different areas. This was a fun filled event that was also well coordinated to bring out the desired effect. There were various enjoyable activities that were set up to help make the day better and more memorable. This was a free session that allowed everyone to join the feeling while ensuring the theme did not get interrupted.
Movie Fundraiser Hosted Annually
The movie fundraiser is such a successes that it is hosted annually on the school's campus. Each year a different film is chosen and a themr is created to enhance the viewing of the outdoor movie event. Money is raised through ticket sales, food sales, raffles during the event and through the selling of sponsorship ads.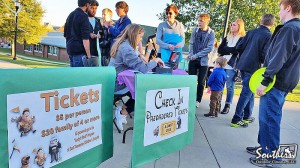 Food trucks and concession trucks
For any event to become interesting and enjoyable, food should not miss in the list of things to be made available. During the movie fundraiser, there were lots of food varieties, unique cuisine and one could make a choice for the best foods. The setup was flexible as to allow anyone to request the right food at the venue. This was a fun filled event that offered not only comfort, but also helped to create memories and offered a learning experience to many.
Student interaction
Students were free to interact with each other for various categories. They built an "UP" house with balloon and later raffled it off. Everyone who attended the event was able to find a spot to enjoy the evening. Students decorated the venue with sidewalk chaulk art as well, helium filled balloons and event signage.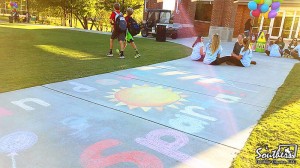 Activities before the movie
Before the movie began, students did not just sit aimlessly waiting. There were many other activities to suit different people. Such include picture taking at the photobooths. On the other side, there was balloon art and face painting.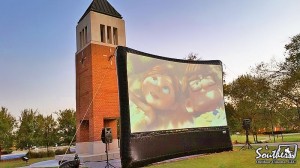 Movie by the clock tower
The beauty of the school campus added to the outdoor movie experience. Parents and students gathered on blankets on the quad's lawn. At sundown the movie "UP" started with a view of the school's clock tower standing tall behind the inflatable movie screen.
———-
All Rights Reserved
About Southern Outdoor Cinema
Southern Outdoor Cinema, LLC, is the LARGEST producer of high quality outdoor movie events in the United States for movie studios, film festivals, marketing agencies, Fortune 500 Companies, schools and cities. Southern Outdoor Cinema produces extraordinary outdoor movie experiences with big screens and bright and colorful images so that your audience members feel like they are at a real Hollywood film premiere. Contact Southern Outdoor Cinema to receive a free consultation for your next indoor or outdoor movie event.
Tags : Disney's UP movie, fundraiser, Knoxville | Comments Off

on Outdoor Movie Fundraiser Themed Around Disney's Up Movie