Posted by
Paul Murray
on
Monday Oct 14, 2013
Under
Tips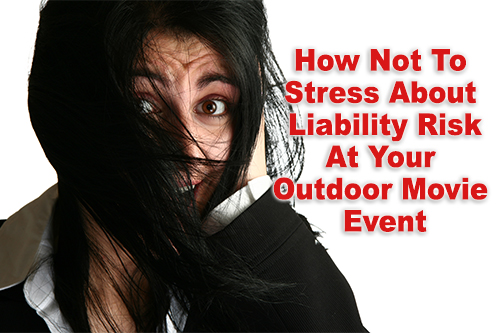 Putting on an outdoor movie event is fun. It is a great way to bring people together and provide a safe, family-friendly source of entertainment. You will enjoy seeing your guests having a great time at your event, but as the event organizer you also have important responsibilities when it comes to behind-the-scenes event planning. Creating a safe environment and minimizing risk to yourself and others involved in organizing your event are two of the most important details you should focus on.
General liability insurance is the best way to minimize liability risk at your outdoor movie event. It is the equipment provider's responsibility to carry general liability insurance; it is in their best interest as well as yours that they are adequately insured. Unfortunately, there are many equipment providers out there without proper liability insurance.
Understanding Insurance For Outdoor Movie Events
DJ services, bounce house rental companies and other service providers and equipment rental services will add outdoor movie screens to their existing businesses without taking all of the proper steps, like adding insurance for their outdoor movie screen services. This type of insurance is difficult to obtain because only a few underwriters cover these kinds of activities. These companies don't let their insurance companies know that they added outdoor movie events to their services and therefore are not covered.
Why is general liability insurance so important? What if your equipment provider causes damage to the location while setting up the equipment? As the event organizer, you, or your organization, will probably be held responsible for any damage if your equipment provider does not carry liability insurance to cover these incidents. The risk of a mishap is also higher when you are dealing with a company such as a bounce house rental business offering outdoor movie screens as an add-on to their main businesses. The technicians setting up and taking down the equipment are probably not trained properly and are more likely to cause damage.
A reputable company will carry general liability insurance to protect themselves and their clients. It is your job to do your homework and make sure your equipment provider carries adequate liability insurance. Ask for a copy of your equipment provider's general liability insurance and see if the certificate description covers cinema viewings/outdoor movies. Also keep in mind that $1,000,000 is the industry standard for general liability insurance.
In addition to offering a great movie at a nice venue, with entertainment and other extras to make your guests comfortable, you must make sure all of your behind-the-scenes responsibilities are handled. By taking the time to investigate your equipment provider are verify that they hold proper liability insurance, you will be doing your best to minimize liability risk at your outdoor movie event. If the company you are considering is not properly insured, look for a more reputable provider; you will be glad you took the time to do things right
All Rights Reserved
Southern Outdoor Cinema, LLC
__________________________________
About Southern Outdoor Cinema
Southern Outdoor Cinema takes the stress and guess work out of hosting a movie theater-quality event outdoors and under the stars. Southern Outdoor Cinema doesn't just rent outdoor movie screen equipment, but instead we share nearly a decade of movie event production experience with our clients to help them produce outdoor movie nights that are extraordinary. For a free event consultation contact Southern Outdoor Cinema at www.SouthernOutdoorCinema.com
Tags : event risk, Insurance, outdoor movie | Comments Off

on How Not To Stress About Liability Risk At Your Outdoor Movie Event