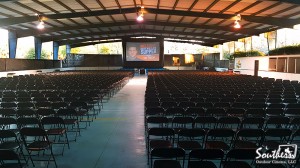 Recently, an annual Men's Wildlife Supper was hosted at a coastal South Carolina mega church, and Southern Outdoor Cinema was able to help make it an overwhelming success. The event was part of a men's outreach program at Community Bible Church. The highlight of the evening was a visit from Tim Tebow, who once again reached out to others with his strong faith.
When planning this year's event, Community Bible Church invited Heisman Trophy-winning and former NFL quarterback Tim Tebow to be their guest speaker. As word spread of this popular sports celebrity coming to the church, more and more people wanted to be there to hear him speak. Over 3,000 men registered for the event, but many more were expected. Each registered visitor was asked to bring an "unchurched guest" with them. Many fathers and sons were coming as well as friends and neighbors.
With so many visitors expected and limited room in the sanctuary, the issue of where to seat everyone became a major concern. This is when Southern Outdoor Cinema was able to step in and help. SOC's audio and visual services are versatile. They don't just show outdoor movies on their big inflatable movie screens. Their closed circuit services are ideal for large events such as this men's outreach
The main church sanctuary was packed the night of the event. Southern Outdoor Cinema set up a two story tall, inflatable movie screen on the church grounds in an open auxiliary building so that Tim Tebow's message could be shown via closed-circuit. This provided an additional 1,500 seats for guests. A live feed was sent through fiber optics to Southern Outdoor Cinema's audio/visual equipment. Those seated in the auxiliary building next to the main church were able to hear Tim's speech as well as see his live image projected in high definition onto the screen.
Tim Tebow brought to the event that same enthusiasm we once saw him bring to the field. Both those in the sanctuary and next door were able to experience Tim's high energy as he shared stories of how his faith has touched his life as well as others. Many people saw his end zone thanksgiving to our creator, later known as tebowing, as a publicity stunt, but it is clear to all who hear him talk, that his faith is real. He grew up as the youngest child of Baptist Missionaries. He has had an out-front Christian faith since those days when he was growing up.
In addition to Tim Tebow's work as an NFL football player and a SEC Network analyst, he enjoys doing charitable service. Along with speaking engagements like this Men's Wildlife Supper, he founded the Tim Tebow Foundation in 2010 which helps children in need. Later he helped the pediatric Tebow CURE Hospital open. His words have inspired church groups, fans, and even inmates throughout the country.
Prior to the event at Community Bible Church, volunteers served dinner to the men. It included tasty wildlife dishes such as turkey, wild boar, shrimp, and venison. The menu planner even included alligator tail, a nod towards Tim's days with the Florida Gators. Appropriate sides, beverages, and dessert rounded out the cuisine.
All in all, the Men's Wildlife Supper with guest speaker Tim Tebow was a huge success. The many thousands of guests enjoyed his uplifting words thanks to the help of Outdoor Cinema's audio/visual equipment. Everyone went home with their stomachs full of food and their hearts filled with faith.
———-
All Rights Reserved
About Southern Outdoor Cinema
Southern Outdoor Cinema, LLC, is the LARGEST producer of high quality outdoor movie events in the United States for movie studios, film festivals, marketing agencies, Fortune 500 Companies, schools and cities. Southern Outdoor Cinema produces extraordinary outdoor movie experiences with big screens and bright and colorful images so that your audience members feel like they are at a real Hollywood film premiere.  Contact www.SouthernOutdoorCinema.com to receive a free consultation for your indoor or outdoor movie event.
Tags : big screen event, inflatable movie screen, movie night, southern outdoor cinema, tim tebow | 1 comment