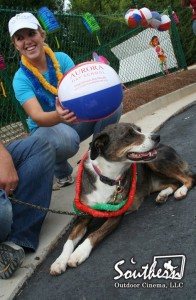 Don't let Fido and friends cause an outdoor movie fiasco.
Forgetting the details can cause a big problem for movie events, particularly when they are held outdoors.
Learn from the cautionary tale of the Fulton River Park movie series in Chicago. Dog feces has become such a problem at the park, not only were movie attendees offended, so were the event sponsors. In fact, one of them pulled their advertising and the movie series had to be cut back.
Leash law enforcement at this park has been lax, and it is turning people away from the park. This in turn means lack of funding for the movie series' event planners. It's the worst possible scenario for a problem that may have been avoided.
Heed the following do's and don'ts about the details in your movie event planning.
Before Booking the Venue
Do some research! Check for reviews, news stories (like the unfortunate one in Chicago), anything you can find. If the particular venue or its owners have been investigated before or have been the defendants in a lawsuit, these are red flags.
Don't forget about safety. What is the crime rate like near these venues? Most newspapers and local law enforcement agencies provide a report of crimes happening in the area. Consider alternative venues if anything seems suspicious.
Do ask around. Contact the planners of other events at the venue and ask about their experiences. Some venues may offer references before booking.
After Booking the Venue
Don't skim over the fine print. Reading the contract terms, rules and regulations (such as leash laws!) several times is another important factor before the movie event begins. Do not miss a single detail and ask as many questions as possible.  Write down any questions or concerns and make notes as they are addressed.
Do remember to keep everyone abreast of the details. If vendors or advertisers involved, go over your findings with them or have representatives do a walkthrough (more on that later). If Southern Outdoor Cinema has used the venue before, we would be happy to give you tips on what to expect.
Do a site visit and a run-through of the event. Depending on the movie event, more than one walkthrough may be required. Check to see if the area is well lit, and there is nothing obstructing the view. The Fulton River Park movie series folks had to move trees so folks could see the movie. This is something that can be avoided if planned in advance.
Before the Event
Don't forget to check the weather. It's not just about checking for rain! Make sure the temperature and humidity will be comfortable for guests. If it's going to be a scorcher, make plans to provide refreshments such as bottled water or a sno-cone machine.
Do provide back-up plans well in advance of the event. Utilize social media and on-site volunteers to make sure everything goes smoothly.
After the Event
Do leave the area better than you found it. That's a mantra for any situation involving the clean-up process. This will please your guests, those in charge of the venue and your sponsors.
Do not forget to include everyone in future planning. The Fulton River Park folks may have benefited from polling their guests and sponsors every year after the event. If dog feces was a recurring problem, changes could have been made, and they would still have their movie series intact.
What are some other details to remember when planning an outdoor movie event? Let us know in the comments.
All Rights Reserved
Southern Outdoor Cinema
"Bigger Screens. Brighter Images. Crisper Sound."
Tags : downtown, Event Planning, holiday outdoor movie, movies in the park, movies under the stars, outdoor event, outdoor movie, Outdoor Movie Event, outdoor movie night, outdoor movies, Pre-Event Planning | Comments Off

on Avoid A Four-Legged Fiasco & Other Movie Event Flubs