In the fall of 2012, residents of several Georgia towns, including Athens, Gainesville, Dawsonville and Atlanta enjoyed seeing pieces of their own towns in the movie "Trouble With the Curve" when it opened in September. "Trouble With the Curve" is the story of a baseball scout who is nearing the end of his career. His daughter accompanies him on his final scouting trip and they attempt to mend their troubled relationship.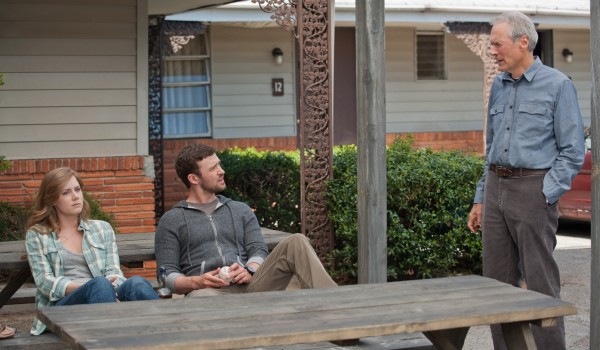 Since this is a baseball movie, it shouldn't come as a surprise that one of the filming locations was Turner Field, home of the Atlanta Braves. Braves fans will like seeing the place their favorite team plays in the movie and perhaps look for their favorite seats in the stadium as they watch. In addition to favorite and familiar places, locals can also look for familiar faces in "Trouble With the Curve". Several Young Harris College baseball players were part of the filming of this movie. In addition to baseball players, other students and community members can be seen in the movie as extras.
The longest stretch of filming lasted ten days and took place at the Amicalola Lodge on GA 53 in Dawsonville. In addition to excitement among locals, filming in the area created an economic buzz in the community. Local stores, restaurants and gas stations enjoyed extra business, and locals were hired for security and traffic direction during filming.
Several scenes were also filmed around Athens, GA. The Globe, a local bar, and Oconee Hill Cemetery, as well as various local businesses located in downtown Athens can be seen in the movie. Some of the Globes' employees can even be recognized in the bar scenes.
Georgia is no stranger to the film industry. Many movie, television show and commercial producers have chosen areas in Georgia, particularly around Atlanta, for filming in the last few years. This is a win-win for Georgia as well as film and television show makers. Production companies benefit from generous tax incentives available for filming in Georgia and Georgia towns experience economic benefits during filming.
In addition to these important economic benefits, seeing a movie that was filmed in your own hometown is pretty cool. If you didn't see "Trouble With the Curve" when it came out in September 2012, consider buying or renting it and watching it now. If you love baseball, this movie will have a special appeal to you, but even if you aren't a huge baseball fan you will probably enjoy the story anyway and it will be fun to try and spot familiar local places as you watch.
All Rights Reserved
Southern Outdoor Cinema
www.SouthernOutdoorCinema.com
Tags : atlanta, filmed in georgia, GA film industry, trouble with the curve | Comments Off

on Clint Eastwood's "Trouble With the Curve" Movie Filmed in Georgia