An outdoor movie on the water in a bay. This was an idea a marina in the Gulf of Florida had for it's customers. The marina was looking for an event that their customers could have fun in the water.
Boat-In Movies
We have experience setting up boat-in movies before. A giant inflatable movie screen setup on the shores of a lake. Boats dropped anchor and tuned in their radios to hear the movie. Kids dive off the side of the boat and splash around in the lake while mom and dad relax together on the deck of the boat. The sun setting and the movie image reflecting on the water. Entertaining fun on the water.
A Movie Screen In The Middle Of The Water In A Bay
A helicopter barge was scouted for the perfect location on the water to setup the movie screen. The barge sat high above the water at two stories tall. The tall barge allowed for an elevated and unobstructed viewing experience from the boaters. The challenge of an outdoor movie on the water was transporting the heavy cinema equipment. Fitted with life vests, the Southern Outdoor Cinema crew loaded a pontoon boat full of audio & visual equipment and chartered out to the floating barge in the middle of the bay. A generator was brought along too. Afterall there are no electric outlets in the middle of the water. Carefully the crew climbed to the top of the barge with the cinema setup, the movie screen, projectors and speakers in tow.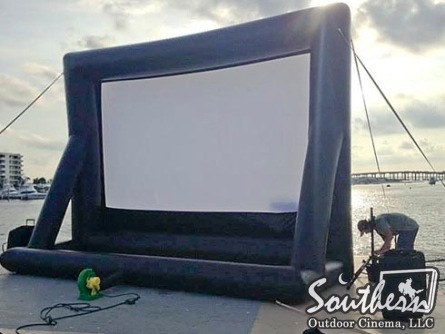 Challenges Of Showing A Movie On The Water
Being in a wide open area near the ocean can be breezy, so we installed a commercial grade high pressure screen. This would ensure the screen would be stable on top of the barge, providing for a still movie screen to project upon. The barge swayed in the water and we didn't want a bouncey image on the screen. The crew planned ahead and provided special equipment to keep the projector still on the barge surface.
Why Drive Up To A Movie In A Car When You Can Motor Over In Your Boat
As the sun began to set upon the water, boaters cruised on over to the open air cinema on the water. Boaters chatted together before the film. The topic of conversation was the floating movie, of course.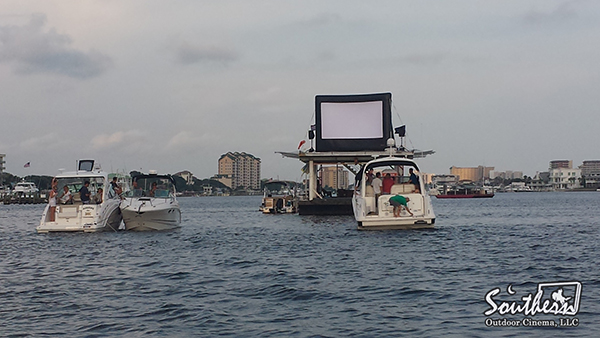 All Rights Reserved
Southern Outdoor Cinema, LLC
__________________________________
About Southern Outdoor Cinema
Southern Outdoor Cinema takes the stress and guess work out of hosting a movie theater-quality event outdoors and under the stars. Southern Outdoor Cinema doesn't just rent movie screen equipment, but instead we share nearly a decade of movie event production experience with our clients to help them produce outdoor movie nights that are extraordinary. For a free consultation contact Southern Outdoor Cinema at www.SouthernOutdoorCinema.com
Tags : boat in movie, floating movie, sail in movie | Comments Off

on Floating Cinema Sets Sail In Florida's Gulf