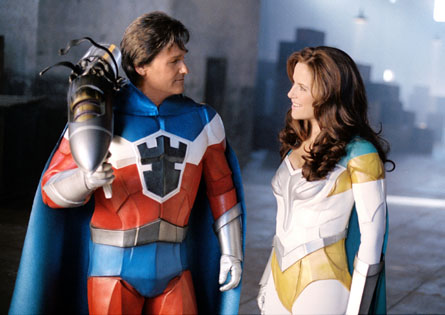 Good movies draw you into the story line and make you feel connected to the characters. Often, viewers will identify with some of the characters and perhaps feel like they know or wish they could get to know some of the characters in real life. With National Parents Day coming up on July 31st, let's take a look at 5 movie parents we might like to have.
1.) Steve and Josie Stronghold from Sky High
Steve and Josie Stronghold, also known as The Commander and Jetstream, from "Sky High". Who wouldn't love to find out that their parents are powerful super heroes and they will be following in their super parents' footsteps by attending Sky High, a special school for the children of Super Heroes? Life would certainly be interesting with famous super hero parents.
2.) Bob and Helen Parr from The Incredibles
In "The Incredibles" we find out that the seemingly normal Bob and Helen are in fact super heroes with three children that end up discovering their own super powers. Bob and Helen, also known as Mr. Incredible and Elastigirl, are super parents as much as they are super heroes. Bob and Helen are fun and they show their love for their children as they support them and help them discover who they are, and there is definitely something super about that.
3.) George and Nina Banks from Father of the Bride
"Father of the Bride" is all about the relationship between a father and a daughter as he struggles with letting her go as she grows up, but both of the parents in this movie are fun to watch. George and Nina Banks are the type of parents many would like to have. They clearly love each other and are funny together, and they both love their daughter and have her best interests at heart.
4.) Daniel Hillard from Mrs. Doubtfire
In Mrs. Doubtfire, Daniel Hillard, played by actor and comedian Robin Williams, shows us how far a loving father will go to be with his children and do what is best for them. A father who puts his children first and keeps you laughing along the way is one most would love to have.
5.)Tom and Kate Baker from Cheaper by the Dozen
In "Cheaper By the Dozen" we watch a family struggle with the decisions the parents make to pursue dreams that they think will benefit the family. Tom and Kate Baker and their twelve children keep us laughing as they discover what is means to put family first. Tom entertains us as he struggles to keep control of their many children while Kate is traveling on a book tour. Both Tom and Kate are fun parents who show us by the end that their children are their top priority.
All Rights Reserved
Southern Outdoor Cinema, LLC
__________________________________
About Southern Outdoor Cinema
Southern Outdoor Cinema takes the stress and guess work out of hosting a movie theater-quality event outdoors and under the stars. Southern Outdoor Cinema doesn't just rent movie screen equipment, but instead we share nearly a decade of movie event production experience with our clients to help them produce outdoor movie nights that are extraordinary. For a free consultation contact Southern Outdoor Cinema at www.SouthernOutdoorCinema.com
Tags : films, movies, parents day | Comments Off

on 5 Movie Parents We Would Love to Have