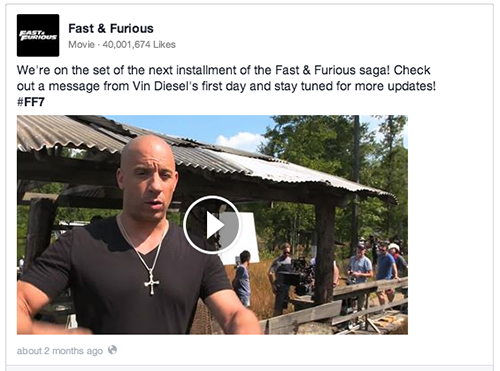 Fast and Furious fans who live in Atlanta will be happy to know that Fast and Furious 7 is currently filming there. Stars acting in the film have already been spotted around town, saying that they have been received with open arms. Lucky fans in the area may be able to see them, during their off hours.
Fast and Furious 7 expands on the story of Fast and furious 6, after Owen Shaw and his gang are dead. Dominic, played by Vin Diesel, and Brian, played by Paul Walker, are finally able to return to America and a normal life. But Owen's brother has other plans for them, namely revenge. Will the crew be able to stop him?
Production for this film began in April 2013, with James Wan chosen as the new director. The previous director left due to scheduling conflict. The script was once again written by Morgan, and it is being produced by Moritz.
Earlier in the fall, production crews filmed at the Fort Gillem site south of Atlanta, the OFS industrial facility north of Atlanta, downtown Atlanta and the Oakland Cemetery. A second production crew filmed some scenes on the Pikes Peak Highway in Colorado. In October casting calls "hot, hip and trendy cool types" of all ethnicities between the ages of 18 and 45 took place in Gwinnett County.
Last week, Nov 5-7. the city of Stockbridge in Henry County issued road closing to allow for the studios crew to shoot on Reeves Parkway and Rum Creek Parkway off Rock Quarry Road. There are scheduled street closures in downtown Atlanta on November 18 and November 25, to allow filming for Fast and Furious 7 to take place. The police will be on hand to help direct the flow of traffic. There will be simulated gunfire and explosions, in keeping with the action of previous Fast and Furious movies. Citizens are advised to keep up with announcements, as there are several sites the movie producers are planning to use. The full list of sites has not been released.
This movie is only the latest in a long line of movies to grace Atlanta. Just recently the new Hunger Games movie filmed there. Other notable pictures include Remember the Titans, Child's Play 3, and House of Payne. Even Fast and Furious 5 was filmed in Atlanta, which is why everyone involved in Fast and Furious 7 were particularly excited about returning there. In fact, Atlanta is sometimes called the movie making capital of the south, and the local film industry seems to be growing rapidly. When this movie comes out, fans from Atlanta and Colorado will have fun guessing which scenes were filmed in their areas.
All Rights Reserved
Southern Outdoor Cinema
Tags : fast and furious, filmed in atlanta | Comments Off

on "Fast and Furious 7" filming in Atlanta Nov 18-25