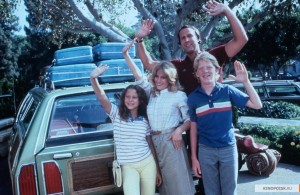 Summer is here and for many families that means it is time for an annual family vacation. Nice weather and a break from time commitments like school make summer a great day to enjoy some time away with the family. Gather your family and watch one of these five family vacation movies before you begin your own journey.
1. NATIONAL LAMPOON'S VACATION
"National Lampoon's Vacation" is a must-see family vacation movie. Clark Griswold has planned the perfect vacation for his family. They plan to travel form Chicago, where they live, to the Wally World theme park in Los Angeles. Unfortunately, Clark's careful planning and good intentions are not enough to keep their vacation on track. They run into trouble and keep viewers laughing the entire way.
2. RV
"RV" is another vacation movie where the family gets into trouble as they travel across the country. Bob Munro plans to take his family to Hawaii, but a work commitment causes a change in plans. Rather than let his family know, he decides to incorporate his work commitment into the vacation and rent an RV for his family vacation. A lack of RV experience and some bad attitudes in the Munro family create a recipe for disaster and many laughs in this movie.
3. CHEAPER BY THE DOZEN 2
In "Cheaper By the Dozen 2," Tom and Kate Baker plan a final family vacation for their large family as their oldest children get ready to move away and on with their lives. The family finds themselves in competition with the family of Tom's old rival, Jimmy Murtaugh. By the end of the movie the two families find a way to get along, and the Baker's come to terms with the changes they are going through.
4. GUILT TRIP
"Guilt Trip" is about an ambitious young inventor, Andy Brewster and his relationship with his mother. He is focusing all of his energy into getting his invention, a natural cleaning product, into a retail store. Andy visits his mother before embarking on a long trip and decides to invite her along for the ride. He tells his mother he wants to spend time with her, but he secretly plans to reunite his mother with a long-lost love. The relationship between Andy and his mother is entertaining, with Andy trying to get his over-bearing mother to back-off and his mother constantly pushing back. We are reminded how important family is in this movie.
5. THE GREAT OUTDOORS
Chet and Connie plan a fun vacation for their family in the movie "The Great Outdoors." Unfortunately, their plans change when Connie's sister, Kate, and her husband, Roman, show up with their two children. Chet and Roman, in particular, cannot get along. Roman and Chet are forced to come together to help Roman's girls when they get into danger. Sometimes families have a hard time getting along, but coming together when it matters the most is what is important.
All Rights Reserved
Southern Outdoor Cinema, LLC
__________________________________
About Southern Outdoor Cinema
Southern Outdoor Cinema takes the stress and guess work out of hosting a movie theater-quality event outdoors and under the stars. Southern Outdoor Cinema doesn't just rent movie screen equipment, but instead we share nearly a decade of movie event production experience with our clients to help them produce outdoor movie nights that are extraordinary. For a free consultation contact Southern Outdoor Cinema at www.SouthernOutdoorCinema.com
Tags : family, movie, summer vacation | Comments Off

on Five Vacation Movies To Watch Before You Plan Your Family Summer Trip