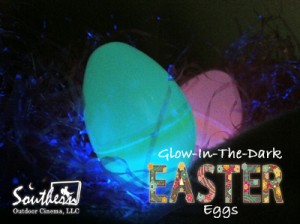 Last week the movie HOP was released onto DVD. This silly animated live-action comedy is about E.B., the Easter Bunny's teenage son, who heads to Hollywood, determined to become a drummer in a rock 'n' roll band. In LA, he's taken in by Fred after the out-of-work slacker hits E.B. with his car.
Hop is a fun movie for kids to watch especially around Easter time. Hosting an outdoor movie event that is decorated around to the movie theme is fun and adds a bite of excitement to the event. Hop is one of those movie that is fun and easy create a decor around Also Churches can add an outdoor movie screening of HOP to their Easter festivities. Since outdoor movie showings on inflatable movie screens typically begin at sundown, we thought that glow-in-the-dark Easter eggs would add a fun twist to a traditional Easter Egg Hunt.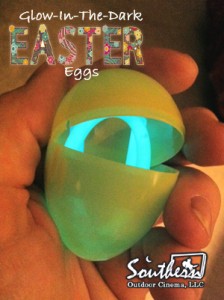 Do It Yourself Glow-In-The-Dark (GlowStick version)
You will need:
Plastic Easter Eggs
Glow-in-the-dark bracelet
Roll up the bracelet glow-stick and place it in the plastic Easter Egg.
Do It Yourself Glow-In-The-Dark (Glow Paint version)
You will need:
Plastic Easter Eggs
Glow Pain
Paint Brush
Sand paper
Scuff up the plastic Easter Egg with sandpaper. Next paint the outside of the egg with glow-in-the-dark paint. Let the painted egg dry in a sunny area to charge the paint. Hide the eggs.
All Rights Reserved
Southern Outdoor Cinema
"Bigger Screens. Brighter Images. Crisper Sound."
###
Want to use this article on your website or your own blog? No problem! But here's what you MUST include:
Southern Outdoor Cinema is the largest producer of PREMIUM outdoor movie events in the country. They are leading the industry with NEW & UNIQUE outdoor movie events. To begin planning your outdoor movie event contact Southern Outdoor Cinema at www.SouthernOutdoorCinema.com or visit their online photo gallery at www.facebook.com/SouthernOutdoorCinema for event ideas.

Tags : decorations, easter, hop movie, movie party, outdoor movie | Comments Off

on DIY Glow-in-the-Dark Easter Egg Decorations for Your HOP movie night