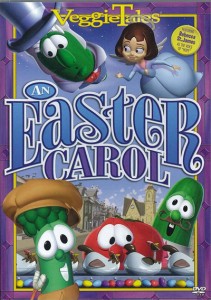 Easter is a time to celebrate the resurrection of Jesus with friends and family. Today, Easter is also celebrated in many households with fun festivities like a visit from the Easter bunny, Easter egg decorating, and Easter egg hunts. Some find it difficult to strike a balance between celebrating Easter in traditional, spiritual ways, and embracing new, fun Easter traditions. Getting together with friends or family to watch an Easter themed movie is a great way to start a fun tradition that also includes the true meaning of Easter.
Veggie Tales: An Easter Carol
Veggie Tales movies are known for presenting concepts to the youngest viewers in entertaining ways they can understand. The main character in Veggie Tales: An Easter Carol, misunderstands what his grandmother meant when she emphasized the importance of Easter. In the end he learns that what really matters when it comes to Easter has nothing to do with plastic Easter eggs. This film is an excellent choice for families with very young children.
The Passion of the Christ
This film is about the final hours of Jesus' life. The film also covers the resurrection, which makes it a good choice for those who are interested in watching a film to celebrate Easter and what the holiday is really about.
Holiday Inn
Holiday Inn is a musical that could be enjoyed on almost any holiday. One of the main characters opens an Inn that is only open on holidays. Each holiday is celebrated with songs sung by a musical duo that was reunited because of the inn. The Easter portion of the film features the famous song, "Easter Parade."
BEN-HUR
This film is long, but riveting. It focuses on a story of revenge, and also includes the complete story of Christ, from birth to resurrection. This award winning film focuses on a Jewish merchant who was falsely accused of a crime by his childhood friend and enslaved. The film focuses on his escape and revenge plot. This exciting movie is a great choice for Easter since it includes such a complete story of Christ; it will capture your attention and become a film you will not soon forget.
The Ten Commandments
The Ten Commandments covers the ten commandments in two ways. The first part covers the biblical story, while the second part is a modern take on morality and the difference following or not following the ten commandments can make in one's life. Two brothers take very different paths in life, one leading a moral life, and the other a corrupt and greedy one. The brother who chooses the corrupt life becomes rich in money, but ultimately ends up suffering. This film is appropriate for celebrating Christ during Easter.
All Rights Reserved
Southern Outdoor Cinema
"Bigger Screens. Brighter Images. Crisper Sound."
###
Want to use this article on your website or your own blog? No problem! But here's what you MUST include:
Southern Outdoor Cinema is the largest producer of PREMIUM outdoor movie events in the country. They are leading the industry with NEW & UNIQUE outdoor movie events. To begin planning your outdoor movie event contact Southern Outdoor Cinema at www.SouthernOutdoorCinema.com or visit their online photo gallery at www.facebook.com/SouthernOutdoorCinema for event ideas.

Tags : easter, easter movies | Comments Off

on 5 Movies to Watch During Easter