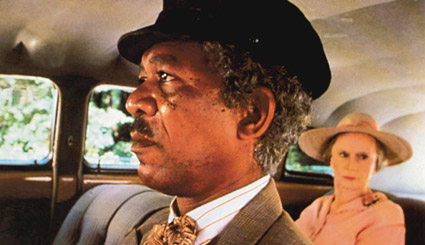 "Driving Miss Daisy", a 1989 Oscar-winning movie, is set in Atlanta, GA in the 1950's. Fittingly, the movie is filmed in Atlanta and in a couple of the smaller towns that surround the city. Filmmakers do not always have the opportunity to shoot movies in the locations the story is actually set it, but in the case of "Driving Miss Daisy" a beautiful old mansion located in Atlanta played the role of Daisy's house perfectly.
The production crew did have to make some changes to the house before it could be known as Daisy's house, including renovating the kitchen. Overall the house, which was built in the 1920's, worked well and the scenes that took place in Daisy's house were filmed right there in the mansion, rather than in a studio like many movie sets.
The Atlanta house used for filming had the perfect look for the 1950's setting, but the streets of Atlanta had too much of a modern look to fit in with the driving scenes in "Driving Miss Daisy". The town of Griffin, GA was used for filming many driving scenes. Griffin is located very close to Atlanta, but has a much different and less modern look than the nearby city.
Smaller, less modern-looking towns like Griffin and Senoia, GA, provide a great backdrop for movies and television shows that need a small southern town setting. The town of Senoia, in particular, has become a hub for this type of filming. In addition to "Driving Miss Daisy", movies like "Sweet Home Alabama" and "Footloose", as well as the hit TV show "The Walking Dead" have been filmed in Senoia in recent years.
Senoia has a beautiful small town look, and has grown tremendously over the years. Crew and cast members spend money in the town during filming shopping and eating. Additionally, successful movies and television shows draw fans to their filming locations, resulting in tourists visiting and spending money in the towns.
Visiting filming locations from a favorite film is a wonderful experience. The Made in Georgia Outdoor Movie Tour provided an even better opportunity for movie fans: the chance to watch movies filmed in Georgia in the exact locations they were filmed. The tour did an outdoor movie screening of "Driving Miss Daisy" in Senoia. Southern Outdoor Cinema set up a huge inflatable movie screen in the middle of Main Street, the exact spot where scenes from the movie were filmed. It was an exciting experience for local residents and movie fans.
_____________
All Rights Reserved
Southern Outdoor Cinema
Southern Outdoor Cinema of Atlanta, creates extraordinary outdoor movie events that captures all the senses of their client's audience while recreating the nostalgic feeling of a close knit community gathering. For a free event consultation contact Southern Outdoor Cinema at www.SouthernOutdoorCinema.com
Tags : Driving Miss Daisy | Comments Off

on "Driving Miss Daisy" Filmed in Atlanta