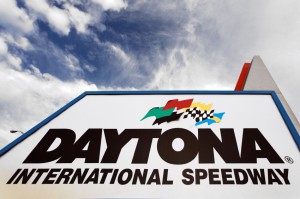 The Daytona 500 dates all the way back to 1959 and is one of four Restrictor Plate races that are held at the Daytona International Speedway located in Daytona Beach, Florida. It is a 500 mile long race that falls under the Nascar Sprint Cup Series that is held each year. It is also typically the race that opens up the season of Cup Series races.
There are several amazing movies that you can watch that will quickly get you in the mood for the Daytona 500 and here are a few of the favorites:
Herbie Fully Loaded
Herbie is back and he is as wacky as he has ever been in the newest of his movies, "Herbie Fully Loaded". Lindsay Lohan plays Maggie Peyton, a teenager who simply loves car racing and one who comes from a family of car racing fanatics. Maggie's father, Ray Peyton Sr. (Michael Keaton) is a stock car driver who is struggling to keep it together on the race track. Maggie's birthday is soon approaching and Ray decides to take her to a nearby salvage yard so that she can pick a car out for her present. She is somehow drawn to a 1963 Volkswagen that is far from pleasing to the eye, but she takes it home regardless of its less than appealing looks. One thing leads to another and Herbie is back on the tracks, but this time he is in it to win it for sure.
Cars
The movie "Cars" is an adrenaline filled, car racing thrill ride centered around a rookie race car with the heart of a pro. Lightning McQueen has a "foot to the pedal" and a "rubber to the road" kind of attitude which is exactly what it will take to get him to California in time to compete in the next Piston Cup Championship race. While on his way to California, Lightning decides to take a little detour through the town of Radiator Springs, and finds out all too quickly just how slow moving this little town can be. One thing leads to another and soon Lightning finds himself wondering if he will make it to California at all. He does however manage to befriend several of the town's residents including Sally the Porsche, Mater the Tow Truck, and Doc Hudson which leaves him wondering if a one-time car race is more important than friendships that will last forever.
The Fast and the Furious
Extreme car racing meets hijacking heists in this pedal-to-the-medal thrill ride starring Paul Walker and Vin Diesel as Brian O'Conner and Dominic Toretto, the world's fastest car racers. Walker plays a young FBI agent who is tasked with the job of investigating several hijackings by joining a car racing street gang as part of an undercover sting. Toretto plays the leader of the same street gang that Walker joins and is tasked to investigate. Walker soon finds himself sympathizing with Toretto and falls in love with his sister Mia, while Toretto remains in what can only be described as a forbidden romance with his girlfriend Letty. Meanwhile, everything seems to be falling apart and things begin to complicate quickly in this fast paced, edge of your seat thriller that is "The Fast and the Furious".
Smokey and the Bandit
So we have our final movie called "Smokey and the Bandit" which is a true classic and a definite "must see" if you have never seen it before. There is "Smokey" (Jackie Gleason) who is otherwise known as Sheriff Buford T. Justice, and then there is "The Bandit" (Burt Reynolds) who is a veteran race car driver who seems to constantly find the Sheriff on his tail. Finding himself bored and with nothing better to do, Reynolds decides to transport a shipment of Coors beer all the way to Atlanta from where he is in Texas, and decides that he will do it in 28 hours flat. Reynolds is so sure that he can accomplish the task that he makes an $80,000.00 bet that he will. The only problem with this whole scenario is that it was illegal back in 1977 to sell Coors beer east of the Mississippi river if you didn't have a permit, and it just so happens that Reynolds didn't have one. "Smokey and the Bandit" brings a little bit of romance, a reasonable amount of humor, and a whole lot of fast car driving to one of the best car racing movies of all time.
All Rights Reserved
Southern Outdoor Cinema, LLC
__________________________________
About Southern Outdoor Cinema
Southern Outdoor Cinema, LLC, is the LARGEST producer of high quality outdoor movie events in the United States for movie studios, film festivals, marketing agencies, Fortune 500 Companies, schools and cities. Southern Outdoor Cinema produces extraordinary outdoor movie experiences with big screens and bright and colorful images so that your audience members feel like they are at a real Hollywood film premiere. Contact Southern Outdoor Cinema to receive a free consultation for your next special event.
Tags : Daytona 500 | Comments Off

on Daytona 500: 4 Movies About Driving Fast