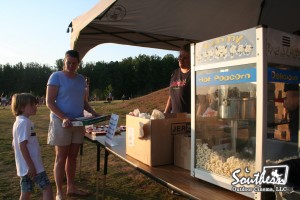 Listen up, bosses and HR folks.
We know you'd like to get rid of – er, donate – your branded drink holders, pens and notepads to your employees as gifts. But the desires of your employees are not much different than when they were students.
The delightful word folks at work want to hear is "incentive." Well, and the word "fun." (Of course!) Incorporating an outdoor movie with an incentive-based and fun corporate event is the key to employee satisfaction and participation.
Besides, you get to have some fun, too.
The awesome part about having an outdoor movie event is you can craft it to be as small or as ginormous as you want. Do you want it to be just your employees and families? Fine. Want the whole community in on it? Do it!
When we asked the social media universe what they think of when they hear the words "corporate picnic," we got some great responses, including our favorite:
"Hot dog in a suit, holding lemonade away from self to avoid spillage, avoiding sitting down to avoid getting suit dirty."
We love the idea of making the event a pool party. Here are some other event planning ideas for creating the perfect corporate event using an outdoor movie rental.
1) Fundraising: Does your company support a charity? Fabulous! You can use the proceeds from concessions to go towards your charity of choice.
Have attendees collect donations in advance of the event or during the activities. If you have been considering a charity and haven't found the right one, check out Charity Watch or Charity Navigator for reputable organizations.
2) Volunteering: Consider calling for volunteers to help run the outdoor movie event. Think about giving the employees who participate a couple of hours off  for helping out.
You can also turn the event into a canned food drive, coat drive or any kind of physical donation event. You'll be encouraging your employees to give back, helping your community and enjoying yourself all at once.
3) Rewards: You can make this outdoor movie event a reward for outside volunteerism, a great sales quarter or anything you choose! Remember, "incentive" is the key to engaging your employees. And what better incentive than treating your employees to a free movie on a theater-quality screen?
4) Competitions: Remember those field days back in school? Before the movie, have a sack race, bean bag toss or other games available for your employees and their families.
There are a lot of different possibilities when it comes to hosting an outdoor movie event for your company. Our turnkey system will take the stress out of event planning. Your only problem will be deciding which great activities to choose from.
And maybe you can give away the branded swag before watching the flick.
We've given you a few activities to get started in creating a memorable corporate picnic that includes an outdoor movie rental. What activities would you add?
What marketing tips would you give those planning this type of event? Let us know in the comments or our Facebook page!
All Rights Reserved
Southern Outdoor Cinema, LLC
"Bigger Screens. Brighter Images. Crisper Sound"
__________________________________
About Southern Outdoor Cinema
Southern Outdoor Cinema takes the stress and guess work out of hosting a movie theater-quality event outdoors and under the stars. Southern Outdoor Cinema doesn't just rent movie screen equipment, but instead we share nearly a decade of movie event production experience with our clients to help them produce outdoor movie nights that are extraordinary. For a free consultation contact Southern Outdoor Cinema at www.SouthernOutdoorCinema.com
Tags : concessions, corporate, Event Planning, holiday outdoor movie, outdoor movie, Outdoor Movie Event, outdoor movies, picnic, Pre-Event Planning | Comments Off

on Beef Up Your Next Corporate Picnic With an Outdoor Movie