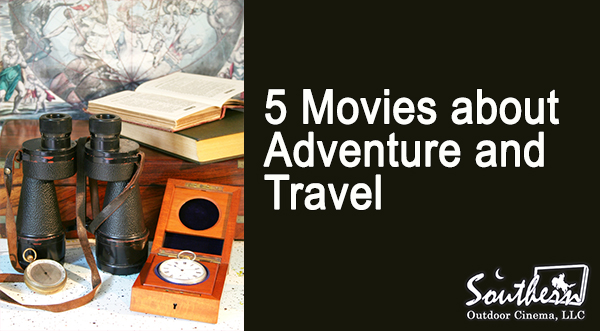 Columbus Day typically falls on the second Monday of October and is a day commemorating Christopher Columbus and his discovery of the New World. There are several fantastic movies perfect for watching on Columbus Day and here are just a few of them.
Rio
Blu is one of the rarest birds alive that can't fly. In fact, he is the last of his kind. At least that's what Blu's owner Linda thinks until she finds out otherwise. It seems as though Blu really isn't the last of his breed of rare Macaws and there is actually a female counterpart to Blu living in Rio de Janeiro. Linda and Blu pack up and jump on a flight to look for the female Macaw only to get kidnapped by animal smugglers soon after arriving in Rio. Blu is able to escape the kidnappers but only after being helped by his new friend Jewel, and a few extravagant city birds. Blu is forced to do the one thing that he has never been able to do, fly. This is the only way that he will be able to get completely away from the smugglers, and is the only way back to the best friend he has ever had, Linda.
The Bucket List
The Bucket List is the story of a bond that is forged between a couple of cancer patients living in the final stages of their disease. Morgan Freeman is Carter Chambers, a nobody mechanic who has yet to truly live life to its fullest and Jack Nicholson is Edward Cole, a corporate billionaire who has always had his eyes set on the wrong prize. The unlikely pair is now sharing a hospital room, suffering through what could very well be their very last days, when they begin talking about all of the things that they never had a chance to do. Carter and Edward put together what they call their "bucket list", or list of out-of-this-world things that they would love to do if they had the chance to do them. And then they realize, what better time then the present which is the exact moment that they grab their things, break out of the hospital and begin eliminating items from their list. What begins as a long list of wild and crazy events turns out to be the beginning of a short, yet meaningful friendship between the two.
Mamma Mia
Sophie (Amanda Seyfried) is finally getting married and would like nothing more than to have her father walk her down the aisle and hand her off to her new husband. The only problem is that Sophie doesn't know who her real father is. Sophie's mother, Donna (Meryl Streep), put everything she had into raising her daughter alone, while still running a successful hotel on a little Greek island. Now Donna is losing her little girl and has no idea just what Sophie will go through to get her wish. While mom is busy inviting a couple of old friends to the wedding (Julie Walters and Christine Baranski), Sophie is busy narrowing mom's male friends down to the 3 final, would-be father, candidates who will be invited as well. Watch as Sophie comes to terms with the possibility of never meeting her true father while Donna relives a series of romances that have been all but dead for 20 years.
Into the Wild
Christopher McCandless (Emile Hirsch) has just graduated from Emory University in Atlanta when he decides that the time has come to become one with nature. He disconnects himself from everyone and everything, and sends his entire life savings to Oxfam International just before leaving for Alaska. While the plan is to end up in Alaska, the journey there takes several unexpected turns. Chris begins by heading west in his rundown car, and drives until it dies at which time he begins hitchhiking his way to his final destination. Not having the cash he started out with proves to prolong Chris' quest, but it is the determination of a man with a plan that puts Chris on the right path, and in Alaska in the end.
The Curious Case of Benjamin Button
Brad Pitt takes the leading role in this film following the life of Benjamin Button, a man born an 80 year old living his life in reverse. Benjamin is born in New Orleans immediately following World War I, and he is unlike anyone else alive. He is literally born an old man growing younger with each passing birthday. Watch as Benjamin faces challenges that no other individual has ever been forced to face in life.
__________________________________
About Southern Outdoor Cinema
Southern Outdoor Cinema, LLC, is the LARGEST producer of high quality outdoor movie events in the United States for movie studios, film festivals, marketing agencies, Fortune 500 Companies, schools and cities. Southern Outdoor Cinema produces extraordinary outdoor movie experiences with big screens and bright and colorful images so that your audience members feel like they are at a real Hollywood film premiere. Contact Southern Outdoor Cinema to receive a free consultation for your next special event.
Tags : columbus day | Comments Off

on 5 Movies to Watch About Traveling on Columbus Day