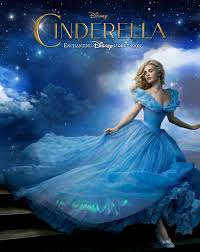 Movie Synopsis:
The most recent adaptation of the Cinderella story has an original opening that many fans enjoyed. Instead of starting out with Ella acting as the household maid at the beck and whim of her evil stepmother and two stepsisters, she is happily living with her mother and father. Cinderella has a truly enchanting life with an absolutely huge country mansion filled with little animal friends what communicate with her, and of course her two loving parents who are both alive and well. Sadly this fairy tail lifestyle doesn't last for long and shortly after the film starts Cinderella's mother becomes bedridden with an incurable disease. Before dying she bequeathed her only child with the advice to "have courage and be kind."
Years pass and Ella's father, a merchant searching for companionship, decides to marry Lady Tremaine to fill the loneliness in his heart. She has two daughters, Anastasia and Drizella, who are the same age as Ella and it seems to be a perfect match. Only those who know the classical story know that the match turns out to be anything but perfect. When Ella's father dies she is left alone with her selfish and overly vain stepmother and two stepsisters. They treat her like a slave, making her wake up at the crack of down to complete a list of chores a mile long. The evil trio go out of their way to make Cinderella's life a nightmare. All she has to help her through this troubling time are the furry animal friends and her mothers words of courage and kindness.
After the king of the nation falls ill there is a ball held to help the prince find someone that he may be able to marry. Everyone is invited tot he ball, especially eligible young ladies. Cinderella and her stepsisters are bubbling with excitement but each for different reasons. While Anastasia and Drizella are only looking to marry the prince and become queen, Ella is just looking for a chance to have a night of fun and freedom from her daily life. Everyone gets ready but before they leave Lady Tremaine and her daughters dash any hopes Cinderella had of attending the ball by destroying her dress and leaving her with no way of getting to the castle. Luckily, with the help of her fairy godmother Ella is able to attend the ball and meet the prince only to have to leave him at midnight. The rest of the movie follows the classic and beloved Disney tale and had a very happy ending.
Positive Elements:
There are numerous factors of this film that have a positive influence on young watchers. For example, until Lady Tremaine and her daughters are in the picture, Cinderella lives in a very happy and healthy home. She has two parents who are kind and love her. In this environment she grows to be a lovely woman. Even when her father is looking to marry again she humbly thinks of only his happiness. Ella proves to be a strong role model by never giving up on the words of hope her mother gave her, even in the presence of her evil stepmother, step sisters, and even prince charming. She is against the idea of forced marriages that don't contain any love and are occur for financial and political reasons. Most importantly Ella teaches young children the value of forgiveness by excusing her stepmother and stepsisters.
Spiritual Content:
There are many allusions between the fairy godmother and a guardian angel. During the entire film Cinderella believes that there are good things in the world and if she stays faithful to her creed nothing bad will ever befall her. When Lady Tremaine and her daughters dash her hopes of attending the ball she is overwhelmed and her faith waivers. This is when the fairy godmother helps Ella with her magic, turning a pumpkin into a carriage and some mice into horses. There are also references to Lady Tremaine, Anastasia and Drizella symbolizing dark temptations and selfish living. The stepmother's mean cat is named also named Lucifer.
Sexual Content:
Unlike other popular films to be released in 2015, Disney's Cinderella is fairly tame in the sexual content category, making it perfect for views of all ages. The women in the film do wear a few low cut dresses and there is a scene showing Anastasia and Drizella in only their undergarments but nothing is ever exposed to the audience. There are also a few kisses between Cinderella's parents and herself and prince charming.
Violent Content:
Once again there isn't to much violence for parents to be concerned of in this Disney film. There are a few fights, which are meant to be more humorous than deadly, and a few threats shared between characters. There are a few deaths in the movie but they are very tame. There is no blood or gore.
Crude or Profane Language:
Phrases such as ,"oh gosh","oh lords," and "bloomin'" are used on a rare occasion and there is some name calling by Lady Tremaine and the step sisters including "hussy", "wench" and "stupid". No actual curse words are used throughout the film.
Drug and Alcohol Content:
There are no drugs used during the movie but Lady Tremaine drinks wine.
Other Negative Elements:
Gambling and harsh treatment of Ella from Lady Tremaine and her daughters.
Conclusion:
Out of all the new live-action films that Disney is producing Cinderella is one of the more tame adaptions. of course there are the evil stepmother and stepsisters which embody everything evil, but Ella's hope, courage, and kindness outshine they devilish efforts. She stands as a good role model for young children. Parents should be wary of the body images presented on film, for the low cut clothing and corseted waists are unhealthy.
_____________
All Rights Reserved
Southern Outdoor Cinema
Southern Outdoor Cinema of Atlanta, creates extraordinary outdoor movie events that captures
all the senses of their client's audience while recreating the nostalgic feeling of a close-knit
community gathering.  For a free event consultation contact Southern Outdoor Cinema at www.SouthernOutdoorCinema.com
Tags : Cinderella, parent movie review, southern outdoor cinema | Comments Off

on Parent Movie Review – Cinderella