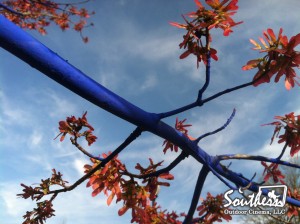 Sometimes when a client hires us for an event they leave out some of the details. We obtain the important aspects like what is being shown and where and the equipment that is needed. The logistics. But when we arrived at a venue this past weekend in a north Atlanta park, we noticed the trees where different. The trees where blue!
We were setting up to show a screening of the independent film that talked about "deforestation" in a park where the trees were painted blue. Australian artist, Konstantin Dimopoulos paints the trees blue in hopes that his art project brings awareness to global deforestation and its global impact.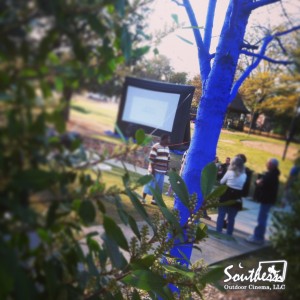 During a presentation before the film screening, Dimopoulos explains that he and and a group of volunteers spent a few days painting the trees with biologically safe pigmented water. He choose blue, because it is not a natural color seen on trees and would stand out.
Sitting in a park, listening to Dimopoulos talk about the trees got me thinking. I've never noticed that there were so many trees around me. They fade into the background. It wasn't until I saw the blue trees, that I stopped to notice that there are so many tress around us providing us beauty and clean air. I am fortunate to have so many around me and to be involved with such great community projects. Dimopoulos pointed out during his presentation to the crowd that each year an area at least the size of Belgium of native forests is cleared from around the planet.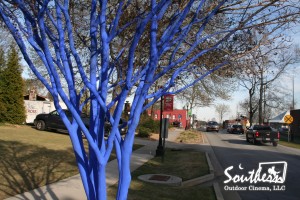 All Rights Reserved
Southern Outdoor Cinema
www.SouthernOutdoorCinema.com
Tags : blue trees, independent film, outdoor movie | Comments Off

on Blue Trees At An Outdoor Film Screening