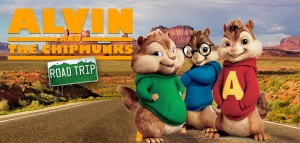 Description
Alvin, Simon, and Theodore are at it again in Road Chip. Once more Justin Long, Matthew Gray Gubler, and Jesse McCartney lend their voices to this lovable trio.
This time around they are trying to figure out how to stop Dave from proposing to girlfriend Samantha. Seville played by Jason Lee, feels that his "boys" need a more normal upbringing so he takes them off the circuit and starts producing himself.They are disappointed but that soon turns to fear when they find an engagement ring in Dave's drawer. The intended bride to be, Samantha, has a child of her own, namely Miles. Miles has a propensity for tormenting small creatures i.e. chipmunks. Neither the chipmunks nor Miles want this union so they set out to stop it. Instead they learn important life lessens along the way plus they learn how to become better friends. Alvin, Simon, Theodore and Miles reinforce the need for positive role models in a childs life. The chipmunks need a mom and Miles needs a dad to help wrangle this bunch of mischievous children.As Alvin's plan usually do, this one goes awry causing many goofy antics to ensue. While this movie has negative aspects, it has some really good ones too.
Positive aspects
This scripts wonderful moments come in when Dave wants to adopt his "boys". They discuss the importance of having a father in a young child's life. They also discuss the need we all have to feel like we belong. This movie also shows that no matter matter how how different two people are they can still find common ground. This pic chomps down on the notions of friendship and familiar loyalty. It offers a nice gesture at adoption too. The main topic however remains about the importance of teamwork and family bonds. The foursome also learn that just because you disappoint or disobey your parents their not going to quite loving them. Also that there will be logical consequences to your actions.
Sexual aspects
There is embracing between Dave and Samantha, and then they share a kiss. The movie shows party goers wearing short shorts, short skirts, midriff baring tops and low cut dresses. Women wear skimpy bikinis at the pool and Miami Beach. Expect lewd comments from Alvin. Also he performs hip thrusting gyrations while singing. Theodore sings that he likes big butts.
Violent aspects
Many people get bopped or thumped in this movie, with glee, like on the Three Stooges. An air marshal chasing Alvin, Simon and Theodore, gets an chipmunk slingshot to the crotch. He gets pummeled in a bar fight, smashed face first into a road sign. Then he gets toothpicks thrown at his face where they stick. Most of the violence comes from the bully , Miles, against the chipmunks. He throws them around, pins one to a revolving windmill, and dips one head first into a cotton candy machine. He bends and twists Alvin around like a toy to prove he's stuffed. Plus a bunch of squirrels tear up a kitchen and living room with their teeth.
Drug and alcohol
Squirrels are taken out by nuts covered in cough syrup. As the movie progresses people are seen drinking beer and wine. Dave and Samantha are imbibing on margaritas. The air marshal is by far the worst example however because he becomes falling down drunk and passes out. When he wakes, he can't remember what he did the night before or how he got the two tattoos he wakes up with. The movie shows him drinking moonshine containing drinks. All in all, the movie focuses more on the dancing than on the drinking.
Conclusion
Alvin and the Chipmunks-Road Chip is basically the same jokes different storyline. However, it still comes off as funny for the kids and cute for the adults who have to watch it five million times once it hit Blu-Ray and DVD. It isn't any worse than some of the cartoons they have out nowadays.Alvin, Simon, Theodore, and even Miles have something to teach children today. Miles teaches that it's important to have a positive father figure around. While Alvin, Simon, and Theodore would probably get in less trouble with a good mother figure. This movie stresses the importance of family bonds and the love that comes with those bonds. It also shows that no matter what your parents will stand right beside you. All in all, it's a good movie for movie night.

_____________
All Rights Reserved
Southern Outdoor Cinema
Southern Outdoor Cinema of Atlanta, creates extraordinary outdoor movie events that captures
all the senses of their client's audience while recreating the nostalgic feeling of a close-knit
community gathering.  For a free event consultation contact Southern Outdoor Cinema at www.SouthernOutdoorCinema.com
Tags : Alving & the Chipmunks: Road Chip, parent movie review, southern outdoor cinema | Comments Off

on Parent Movie Review – Alvin & the Chipmunks: Road Chip