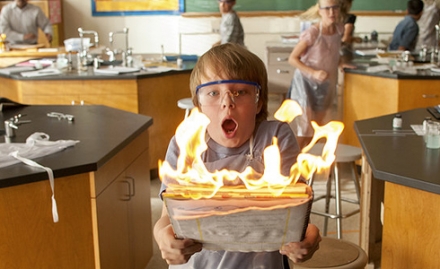 Alexander's Terrible, No Good, Very Bad Day is a Walt Disney Studios motion picture based on a popular children's book. It is rated PG due to rude humor, language, and behavior, and it is directed by Miguel Arteta. The cast includes Jennifer Garner, Steve Carell, and Ed Oxenbould.
Alexander Cooper comes home after a terrible day at school where he managed to set the science lab on fire. He hopes that his family will make him feel better. Rather than getting some much needed solace, he has to listen to them talk about what a great day they all had while they eat dinner together. Alexander goes to bed worrying about tomorrow which happens to be his birthday. He can't sleep and decides to make a birthday sundae for himself. He adds a candle which he blows out and makes a wish. He wishes a bad day upon his family so that they would understand how he feels.
When he gets up the next morning he discovers the entire family has over slept. His dad needs to get to a job interview, and his mom worries about showing up late to a celebrity book reading that she's in charge of. Emily, his sister, awakes with a cold on a day where she's supposed to perform in the school musical. His brother will soon find out his evening at the junior prom won't be perfect.
Although films like this often portray unrealistic situations, this movie does contain situations that many families may come up against. The switch is that in normal life you probably won't experience all of these problems on one particular day. This fact makes the humor behind each scene relatable to the average parent. Children enjoy the slapstick comedy found throughout the film such as a baby licking a marker and turning his face green.
The parents are portrayed as hard working, intelligent, and caring. They try their hardest to turn things around for their children throughout the story. They try to make sure each child's special event becomes just that, a special and memorable event.
Positive Element
The theme of this movie is to keep your head up when you're in the middle of a terrible day. It will get better, and when it does, you'll appreciate it all the more.
Throughout the film the characters support each other the way family should. It ends up making them even stronger than they were to begin with. They come together, and they find the humor in an otherwise horribly bad situation.
Sexual Element
After accidently walking in on her son while he's in the bathroom, the mother makes the statement that she's "seen every penis in the family."
Reference is made to a teenage couple making out in a minivan. A toddler boy is shown using the potty without any clothes on, but explicit details are omitted.
Cell phone pictures show women in bikinis with a boy's face placed over theirs. Three hired men who are supposed to perform at a child's birthday party end up being strippers. After they are told to keep it PG they alter their performance and keep their clothes on.
The words "butt-crack" and "boobs" are in the movie as well as the dad announcing that he wishes he could swear.
Violent Element
One boy places another one's face on pictures of women in bikinis with an app on his smartphone. After texting the images to classmates, the victim is ridiculed by his peers.
One character's shirt is caught on fire during a scene in a restaurant. He does extinguish the flames without injury. Another scene depicts a student's notebook in a science lab catching fire. The notebook catches a poster on fire as well, but the teacher is able to put both fires out.
While taking his driver's exam a teen boy loses control of the car while answering his cell phone. Both the car and public property are damaged as a result.
Drug and Alcohol Element
A teenage girl who is suffering from a cold ingests a large amount of cough syrup. She does this so she can still be in the school's play. She becomes drunk, and she is shown vomiting twice. In a restaurant characters are seen drinking socially.
Conclusion
The overall theme of caring for others elevates Alexander's Terrible, No Good, Very Bad Day above its shortcomings. It does give parents and children the chance to enjoy a live action movie about family and allows them to laugh together. It is not recommended for children 12 and under. Parents should take the PG rating seriously and consider their child's age and maturity level before letting them to see this film. This is definitely not a family friendly movie for all ages.
Parents of any age child should discuss situations shown in the movie with their kids. Bullying, drunkenness, and bad language all make an appearance. Even though it is funny in the movie, they need to understand just how serious this behavior would be in real life and that it would have consequences.
____________________
All Rights Reserved
Southern Outdoor Cinema
About Paul B. Murray
Paul is founder of Southern Outdoor Cinema, an outdoor cinema event production company based in Atlanta and a dad to 2 pre-teen girls. When he is is not traveling to create outdoor movie nights for communities, he is spending time playing board games, reading books and of course watching movies with his girls.
Tags : Alexander, book, Disney, parent movie review | Comments Off

on Alexander's Terrible, No Good, Very Bad Day | Parent Movie Review | Southern Outdoor Cinema